Julie Pinborough - Freelance Copywriter | Proofreader | Copyeditor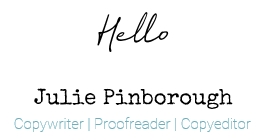 I am a member of SfEP (the Society for Editors and Proofreaders) and have qualified through the Publishing Training Centre, and the Blackford Centre.
I'll find the right words just for you or your business by getting inside your ideas and working with your thoughts. I do this through listening and respecting your voice.
COPYWRITING SERVICES:
blogging, slogans, sales emails, TV scripts, headlines, catchphrases, straplines, advertising, leaflets, annual reports, brochures, web advertising, social media, mobile applications, radio jingles, TV commercials
PROOFREADING SERVICES:
Grammar, Spelling, Punctuation, Capitalisation, Sentence structure, Word choice, Academic style, Academic tone, Repetition, Verb tense, Correct use of UK English
COPYEDITING SERVICES:
Correct spelling, grammar, and punctuation
Consistency in writing, word choices, and style
Compositional spacing
Eliminate jargon and repetition
Revise inappropriate verb tenses
Check for subject-verb agreement
Insert transitional phrasing
Evaluate the continuity/flow of thoughts
Ensure support of statements
Correct formatting of citations/references
Correct formatting of footnotes
Check industry style guides
Critical assessment and feedback
STUDENT SERVICES:
job applications funding applications CVs cover letters, interviews, dissertations, essays, exam preparation, open-book exams, project submissions, thesis proofing
I continue to develop my knowledge in all areas so that I can remain fluid in understanding my clients' needs while enjoying my professional and personal development. I have advanced diplomas in Graphic Design, Social Media Marketing, Photography, and Photoshop, so that I can provide my clients with a better understanding of their needs, and how their businesses work.
Blackheath
Blackheath
London
SE3
07736308803
https://www.juliepinborough.com
Copywriting Proofreading Copyediting Academic work Document creation


Julie Pinborough - Freelance Copywriter | Proofreader | Copyeditor are listed in;
Copywriters Directory
-
Copywriters in Blackheath
-
Copywriters in London
-
Blackheath Business Directory
-
London Business Directory
Julie Pinborough - Freelance Copywriter | Proofreader | Copyeditor Blackheath London
Tweet this listing to improve your exposure -
Tweet