Building Maintenance Merseyside
Latest Merseyside Building Maintenance Listings
Featured Listings
See our
Upgrade options
to find out more about Featured listings.
If there are no featured Merseyside Building Maintenance listed directly below - You could be the 1st.
Standard Building Maintenance in Merseyside Listings
G McMahon Building and Roofing Services
Bebington, Merseyside, CH63 2NW
Roof replacement and maintenance Flat roofing Chimney stacks Leadwork Pointing Joinery Plastering Plumbing Extensions Alterations Loft conversions Bricklaying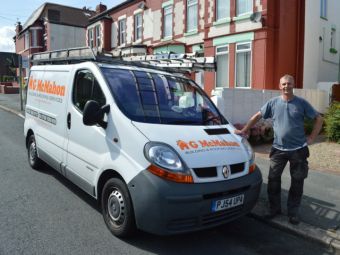 Over 30 years of experience
Competitive Priced Building and Roofing General Building Reliable Tradesman Trustworthy Builder Time served tradesman
---
Solar Ventil8
Southport, Merseyside, PR99RZ
Solar Ventil8 from conception has endeavoured to provide its clients, domestic & commercial with an environmentally friendly solution to ventilating & temperature regulating both open and confined spaces. Experts in mould eradication Solar Ventil8 offer FREE detailed reports & tailored solutions to ventilation and property maintenance. Solar Ventil8 helping you get the green footprint future generations deserve
Cleaning Mould Remediation Building Maintenance Ventilation Mould Eradication
---
Dolan
Liverpool, Merseyside, L9 3AZ
L&S Management are a newly formed yet experienced building maintenance company. We guarantee low prices and a high level of customer service. We cover all aspects of building maintenance from general repairs to advanced construction. 24 hour emergency call outs available. Call today for a free quotation.
painting decorating waste removal household repairs construction drainage
---
M.A.P. Building Services
Liverpool, Merseyside, L18 5HS
M.A.P Building Services specialize in the regeneration or refitting of Bathrooms, Bedrooms, Fitted Kitchens, Extensions, Electrical, Plumbing, Property Maintenance and Management. Painting, decorating, Landscape Gardening, Loft Conversions, Hardwood floors, Roofing, and other Building Aspects
Fitted kitchens Kitchens Bedrooms Bathrooms Joinery
---
thomas burke
Liverpool, Merseyside, l32 8ta
Thomas Burke Of Direct Service Providers [North West] Offers Factory Maintenance Services of a high standard to all their customers at competitive prices.We only employ fully skilled engineers, so all work is carried out to the highest standard. Boiler, Heating, Air Conditioning Plumbers, Drains Extensions - Conversions Surveyors - EPC - Pest control Insulation - Damp proofing Other Jobs Roofers - Builders - Demolition Painters - Decorators - Plasterers Burglar alarm - Home security Flooring - Carpets - Tiles Refurbishments & Improvements New Builds (Houses, Garages, Blocks) Electricians - Wiring Windows - Double Glazing - Blinds - Doors Kitchen - Bathroom - Bedroom Patios - Drive Laying - Garden Decking Gardening - Fencing - Tree Surger ALL ENQUIRIES thomasburke3@googlemail.com
brickwork flagging fencing drainwork maintenance
---
JH.G Property Maintenance
Wigan, Merseyside, WN5 7LY
J.G Property Maintenance is a small business focusing on providing a quality, yet very affordable service to households in the North West of England. Dealing with Electrical, Plumbing and All aspects of Maintenance for the needs of the average Joe. Fully insured, VAT registered business. FREE Quotations, no job too small Located in Billinge, central for St Helens and Wigan 07757086294
Plumber Building Maintenance Electrician
---
1st Garage doors & Home Improvements
Wirral, Merseyside, CH61 9NF
Locally established buisness established 12 years
patio''s Garage doors canopies Fencing Windows and doors
---
D and D Contractors LTD
Wirral, Merseyside, CH42 5PH
D&D Contractors LTD are a family run business in the Wirral area. At D&D we specailise in PVC Windows & Doors, we do groundwork and gardening, and also house hold maintanence not mention fencing. We offer free advice and very competetive free on site quotations.
Gardening Fencing Groundwork Household Maintanence Glazing
---
PROCURE RESTORATION
LIVERPOOL, Merseyside, L24 0JD
Building and Maintenance - we undertake all aspects of building work externally and internally from roofing to decoration. We pride ourselves with attention to detail, and care and consideration when working within a clients property. With a wide range of work, roofing, plastering, joinery, electrics, plumbing, decoration, kitchen and bathroom fitting, laminate floor fitting.
joinery decoration plumbing roofing plastering
---
JHS Building Services
Liverpool, Merseyside, L18 7HX
Specialists in all areas of general building work
---
dave's handyman services
liverpool, Merseyside, l198jt
MY BUSINESS IDEA IS TO OFFER A COMPREHENSIVE HANDYMAN SERVICE/PROPERTY MAINTENANCE SERVICE UNLIKE MOST OTHER COMPANIES IN THE CURRENT MARKET I WILL RANGE FROM THE SMALLEST OF JOBS (CUTTING THE GRASS) TO LARGE SCALE JOBS (EXTENSIONS/RENOVATIONS). MY IDEA HAS STEMED FROM NEEDING WORK DONE MYSELF AND FINDING PRICES TOO HIGH DUE TO MOST COMPANIES NOT WANTING TO TAKE ON SMALL JOBS OR LESS PROFITABLE ONES YET IN MY EXPERIENCE THESE LEAD TO MORE AND MORE JOBS COMING FROM THE CLIENTS THEMSELVES WHEN THEY DISCOVER THE LEVEL AND QUALITY OF SERVICE I OFFER. I HAVE CARRIED OUT A LOT OF JOBS FOR VARIOUS PEOPLE OVER THE YEARS WHILST STILL IN FULL TIME EMPLOYMENT HERE ARE A FEW EXAMPLES.
property maintenance bathrooms decking specialist building extensions kitchens
---
Revilo Property Solutions Ltd
St Helens, Merseyside, WA11 9JQ
Upvc Specialist, Replacement of gutters, facias, soffits, windows, doors, cladding etc. Roofing, joinery, plumbing, extentions, conservatories.
---
Hylift access hire
Liverpool, Merseyside, l22 5ns
access platform hire/cherrypickers and property repairs
---