Ideaswise Freelance Copywriter
57 Carysfort Road
Stoke Newington
London
N16 9AD
Click Here For Phone Number

Web:
http://www.ideaswise.com
Freelance copywriter based in Stoek Newington, London,UK, specialising in freelance copywriting services such as website copywriting, SEO copywriting, ads, brochures and sales collateral.
Is this your business listing?
You can now upgrade your listing to remove other adverts, improve your listing and include a link to your website.
freelance copywriter London copywriter UK copywriting services Copywriters London Ideaswise Freelance Copywriter London
Ideaswise Freelance Copywriter are listed in;
Copywriters Directory
:
Copywriters in Stoke Newington
:
Copywriters in London
:
Stoke Newington Business Directory
:
London Business Directory
UK copywriting services freelance copywriter Stoke Newington Copywriters London London copywriter http://www.ideaswise.com
More Copywriters in London Listings
Note: This is a free listing, other listings and adverts do not appear on Upgraded Listings
Bespoke Copywriter
Experienced London-based Digital Copywriter, Ellen Parker, offers a bespoke, personal copywriting service. She specialises in writing clear, eye-catching online content for small businesses and start ups. Wherever you are in the world, she can help with your:
- Home Page/ About Us
- Services/ Product Descriptions
- Blog Articles
- Marketing Emails
When you choose Ellen as your copywriter, she will guarantee:
- A bespoke, personal service
- Quality SEO copy that will help lift your website to the top of search results
- A FREE consultation and FREE copy sample before you commit
Get in touch at bespokecopywriter@outlook.com for more info.
London, London
---
Nicky Charlish Writer
NICKY CHARLISH Writer, proofreader and editor
Freelance journalism, sub-editing and proofreading I can write about or edit almost anything. I am based on the London-Surrey border. I have over thirty years' experience in writing for a variety of magazines from Melody Maker to Vintage Life. I have covered the arts, especially fashion and entertainment - including celebrity interviews - and human interest stories. I have also written for newsletters and websites. Examples of my work are available on request. I have proofread and edited legal documents for the Civil Service, checking for content accuracy, grammar, house style, punctuation and spelling.
Freelance copywriting - I can take your ideas and turn them into exciting copy designed for your target market. I can write or rewrite press releases, copy for blogs, brochures, catalogues, e-newsletters, flyers, leaflets, reports, slogans and websites.
Professional memberships and qualifications - I am a member of the Society of Authors and of the Chartered Institute of Editing and Proofreading.
London, London
---
Julie Pinborough - Freelance Copywriter | Proofreader | Copyeditor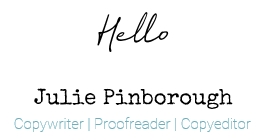 I am a member of SfEP (the Society for Editors and Proofreaders) and have qualified through the Publishing Training Centre, and the Blackford Centre.
I'll find the right words just for you or your business by getting inside your ideas and working with your thoughts. I do this through listening and respecting your voice.
COPYWRITING SERVICES:
blogging, slogans, sales emails, TV scripts, headlines, catchphrases, straplines, advertising, leaflets, annual reports, brochures, web advertising, social media, mobile applications, radio jingles, TV commercials
PROOFREADING SERVICES:
Grammar, Spelling, Punctuation, Capitalisation, Sentence structure, Word choice, Academic style, Academic tone, Repetition, Verb tense, Correct use of UK English
COPYEDITING SERVICES:
Correct spelling, grammar, and punctuation
Consistency in writing, word choices, and style
Compositional spacing
Eliminate jargon and repetition
Revise inappropriate verb tenses
Check for subject-verb agreement
Insert transitional phrasing
Evaluate the continuity/flow of thoughts
Ensure support of statements
Correct formatting of citations/references
Correct formatting of footnotes
Check industry style guides
Critical assessment and feedback
STUDENT SERVICES:
job applications funding applications CVs cover letters, interviews, dissertations, essays, exam preparation, open-book exams, project submissions, thesis proofing
I continue to develop my knowledge in all areas so that I can remain fluid in understanding my clients' needs while enjoying my professional and personal development. I have advanced diplomas in Graphic Design, Social Media Marketing, Photography, and Photoshop, so that I can provide my clients with a better understanding of their needs, and how their businesses work.
Blackheath, London
---
Copywriter Collective London
Copywriter Collective London is Europe's leading agent for freelance copywriters. We represent English, French, German, Dutch, Belgian, Russian and Chinese copywriters, among others. Copywriter Collective has been servicing clients globally for over 10 years. Our freelancers have produced concepts and copy for commercials, advertisements, websites and brochures. We can count agencies like DDB, TBWA and Grey as our clients alongside brands like Apple and Philips.
London, London
---
Francis Glibbery: Copywriting
Experienced. Enthusiastic. Energetic. Curious. Creative. Commercially minded. That's me.
I've worked as a writer in public relations, advertising and marketing communications for over 30 years.
I've created house magazines, advertising campaigns, publicity materials and website content for a very wide range of clients.
I charge reasonable rates and always deliver on time.
What's not to like!
Earls Court, London
---
Clear Copywriting
Clear Copywriting provide you professional website copywriting services to make difference in all. Our technical experts use easy words that help increase targeted traffic. For blog, article, newsletters, SEO, press releases content, call us at 0121 259 0154.
Edgware, London
---
Planet Copywriter
Powerful, persuasive copy that influences decisions, changes minds and boosts sales. Digital and print. Radio and TV. Websites, e-marketing, ads, leaflets, corporate literature, newsletters, marketing collateral, SEO Google adwords
Barnes, London
---
Ideaswise Freelance Copywriter
Freelance copywriter based in Stoek Newington, London,UK, specialising in freelance copywriting services such as website copywriting, SEO copywriting, ads, brochures and sales collateral.
Stoke Newington, London
---
Katherine Bruce, Freelance Copywriter
Katherine Bruce is a copywriter based in north London. She loves writing interesting, lively content for websites, printed marketing materials and internal communications.
Finsbury Park, London
---
Write For You Limited
Direct response copywriting service specialising in sales letters for UK and international businesses, both online and offline.
North Finchley, London
---
The ideascribe
London-based journalist and copywriter with a strong background in social and international affairs and public policy. Experienced communications professional providing clear, concise copy for magazines, reports, supporter materials and websites.
London, London
---
Incontext
CREATIVITY that COMMUNICATES. COPYWRITING that COMPELS. We offer a full quota of marketing services. We focus our energies in the area of COPYWRITING because we love to write. Our experience has been formed helping to promote a wide range of industries, working both in Canada and in England.
London, London
---
White Label Media Ltd
Based in London, White Label Media provides consultancy and services that address new media such as blogs, podcasting, social networking, email newsletters and web content. Traditional media offerings include internal and external client publications, white papers, copywriting, media training, corporate speaker coaching and event planning to customers the world over. Expert communicators whatever the format, White Label Media is trusted by individuals and businesses alike to create a powerful voice for their brand – one that delivers long-term relationships with stakeholders. Organisations to have benefited from the White Label Media approach include Ericsson, The Institute of Telecommunications Professionals, Netgear, NTT Europe, Samsung, Sony and numerous agencies.
Finsbury Park, London
---
Griffin Copywriting
Copywriting, web words, marketing and editorial solutions by experienced Fleet Street journalists for any budget. We are based in London but offer services globally.
Ealing, London
---
Writemysite
A pioneering service set up by an entrepreneur for entrepreneurs, writemysite offers a copywriting service to small businesses with websites. There is information everywhere about the importance of driving traffic to your website, but what happens when your visitors actually get there? If the words on your site don't persuade them to buy from you, all they have to do is click the 'back' button to return to Google and try one of your competitors. We take the words on your site and give them a 'makeover' so they communicate all the benefits of your product or service in the most effective way.
London, London
---
TENFOUR writing
TENFOUR writing helps companies and organisations create a personality through words. Content for websites, and copywriting for literature, articles, marketing and media materials.
London, London
---
Find
Copywriters near me
- Find out more about
Amazon Small Business Accounts UK