better clean nuneaton
23 elwy circle ash green.
Coventry
Warwickshire
cv9au
Click Here For Phone Number

offering carpet cleaning,upholstery cleaning and window cleaning services.
Is this your business listing?
You can now upgrade your listing to remove other adverts, improve your listing and include a link to your website.
carpet cleaning sofas cleaned rugs cleaned windows cleaned pest control Carpet Cleaners Warwickshire better clean nuneaton Warwickshire
better clean nuneaton are listed in;
Carpet Cleaners Directory
:
Carpet Cleaners in Coventry
:
Carpet Cleaners in Warwickshire
:
Coventry Business Directory
:
Warwickshire Business Directory
windows cleaned rugs cleaned carpet cleaning Coventry Carpet Cleaners Warwickshire pest control sofas cleaned http://
More Carpet Cleaners in Warwickshire Listings
Note: This is a free listing, other listings and adverts do not appear on Upgraded Listings
Exact Clean
Welcome to the website of Exact Clean. When entrusted with the task of cleaning your valuable carpets and upholstery, whether in your home, office, shop or school, we take great pride in ensuring that they are fresh and bright, cleaned to the highest standards possible and that they dry in just a few short hours.
Based in Studley, Warwickshire, we are part of a network of professional upholstery and carpet cleaners, and with years of industry knowledge and experience are able to offer high quality cleaning services at affordable prices.
Our trading area is extensive. From our Studley base, we work in all the local towns and villages such as Redditch, Bromsgrove, Birmingham, Warwick, Solihull, Evesham, Stratford-Upon-Avon, Alcester and beyond.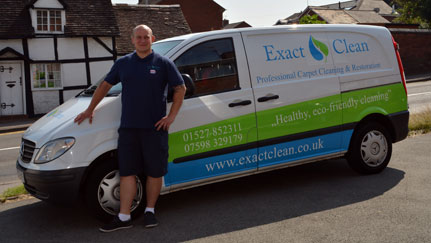 Carpet and upholstery cleaner for you
Being independent, we are not tied to a franchise, some of which can limit the choice of equipment, cleaning systems and solutions. Whichever process is best for YOUR carpet will be our primary choice. Wherever possible, we will use Eco-Friendly cleaning solutions formulated from renewable resources. These products are now so well developed that they offer a real advantage to the fabrics and carpets being cleaned whilst also minimising exposure related problems to animals, children and adults alike. They put us in a win-win situation and costs are comparable with traditional detergent chemicals.
We feel that eco-friendly carpet cleaning solutions are increasingly important since they avoid the use of artificial products which can be harmful to your health, something which is a particularly important consideration for families with young children or pets. Our products are derived from renewable plant sources, so your carpets will be naturally fresh and clean when we leave. Detergent free solutions will not lead to any rapid re-soiling.
As well as first-class
carpet cleaning
, our technicians are able to offer
upholstery cleaning
. You won't often find both services provided together since upholstery requires greater skill and experience to clean, but we possess everything needed to get the job done to the highest standard possible. Using low moisture tools and high powered extraction machine, we'll get your upholstery looking as good as new without risk of over-wetting and it will dry in few short hours.
Carpet and upholstery cleaner for commercial premises
Our commercial contract system allows us to send experienced and knowledgeable technicians to your business premises on a regular basis to ensure that carpets, upholstery, and windows always reflect well upon your company. Much more cost-effective than turning to a local provider for one-off jobs, this is a fantastic way to keep your business premises sparkling.
For further information regarding any of our services, please don't hesitate to
Contact Exact Clean today
.
Carpet Cleaning
:
Upholstery Cleaning
:
Commercial Carpet, Upholstery and Window Cleaning
Carpet Cleaner Solihull
,
Birmingham
,
Bromsgrove
,
Redditch
,
Stratford-upon-Avon
Studley, Warwickshire
---
Carpet Cleaners Leamington Spa
Carpet Cleaners Leamington Spa is an independent business owned and operated within Leamington Spa,Warwick and its surrounding areas.
Professional carpet cleaners, we operate industrial cleaning machines to provide the best possible carpet cleaning and rug cleaning service
Leamington Spa, Warwickshire
---
Preedy Clean
We Clean windows, carpets & upholstery, conservatories, guttering, UPVC and car interiors. We operate in Coventry, Kenilworth, Warwick, Leamington Spa, Ufton, Keresely, Lillington, Southam.
Kenilworth, Warwickshire
---
Carpet Cleaning Prince
We are a family run business, working 7 days a week operating throughout Warwickshire. We specialize in carpet cleaning and upholstery cleaning and work to a very high standard.
Stratford-upon-Avon, Warwickshire
---
better clean nuneaton
offering carpet cleaning,upholstery cleaning and window cleaning services.
Coventry, Warwickshire
---
Mick gayton
We run a small family run business for over 18 years,we offer floorcare which includes Carpets, upholstery,tile&grout cleaning,marble polishing,stone floor cleaning and sealing.
Coventry, Warwickshire
---
Hinckley Cleaning Services
We offer high quality and affordable Carpet and Upholstery Cleaning in Hinckley and its surrounding areas in Leicestershire and Warwickshire. We have been offering these services for nearly two decades and find many of our customers return to us for their carpet and upholstery time and time again. We have over 17 years experience in all areas of domestic and commercial cleaning and maintenance. We have and always will offer a friendly, reliable and cost effective service.
Nuneaton, Warwickshire
---
Immaculate Services
Professional Carpet & Upholstery Cleaning Service Domestic & Commercial All Franchise Quotes Beaten Reliable & Efficient Deep Cleans & Fast Drying Professionally Trained Staff
Coventry, Warwickshire
---
elite carpet cleaners
elite carpet and upholstery always clean to a very high standard.only use safe;non toxic eco friendly cleaning productsvery fast drying times typically 1-3hours always take the greatest care in your home.we maintainepublic liability and all risk insurance
Stratford-upon-Avon, Warwickshire
---
FITZ2KLEEN
Established in 2008, The Technicians at Fitz2kleen have many years experience in the carpet cleaning sector, with the focus on providing carpet and upholstery cleaning to clients throughout the Coventry and Warwickshire area. The partnership is based in Aldermans Green (Coventry). The business provides the general public with a professional carpet and upholstery cleaning service and operates from on-site facilities. The fully qualified staff ensure clients receive a friendly and affordable service. The service is intended to provide a first class result every time. With 2 fully qualified technicians, Fitz2kleen has a professional team, trained to a high standard. The business is owned by Mark Fitzmaurice who has been involved in the carpet cleaning industry for many years. Having previously worked for a number of fire and flood restoration companies, Mark Fitzmaurice is more than qualified to run the business. Fitz2kleen has an expanding customer base, located in and around Coventry, including residential and industrial clients. The business delivers a range of services that are tailored to your requirements and are designed for both residential and commercial customers, Public houses, Restaurants, Offices, Night Clubs with no request overlooked. The service offered includes fully trained and insured Technicians using tried and tested equipment and cleaning products. The services available include Carpet and upholstery cleaning, Kitchen deep cleans, canopy deep cleans, and Sparkle cleans, Emergency call outs a possibility. Should disaster strike i.e.: Floods, FITZ2KLEEN can assist with cleaning up and drying if needed.
COVENTRY, Warwickshire
---
Home n Dry Carpet dry cleaning
we DRY clean carpets and upholstery for business and private customers.
Leamington spa, Warwickshire
---
Gecko Carpet and Upholstery Cleaning
carpet and upholstery cleaning, cleaning leather, mattresses, curtains, stain protection, fully insured with treatment risk.
Stratford-upon-Avon, Warwickshire
---
Find
Carpet Cleaners near me
- Find out more about
Amazon Small Business Accounts UK