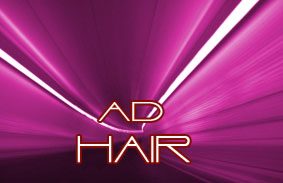 Welcome to AD-HAIR Hair Extensions in Poole, Dorset
Admiring all these celebrities with their glamorous hair styles? Now anyone can get long, full hair with Hair Extensions! You have very short hair but would like to get the look of a long hair style? In just a few hours you can change your look completely and wear them for months at a time.
Hair extensions are not only for extending your hair. They can be used to thicken up thin hair and also for adding highlights and lowlights to your hair style without chemicals. Hair Extensions donít restrict you in any lifestyle activity; you can still swim and play sport with total confidence.
AD HAIR is a personally tailored hair extension service Ė designed to offer individual styles / length and colour to enhance hair appearance. You can choose between Natural Bonded, Pre-Bonded and Transformation Connections (the very latest in Micro Rings) natural hair extensions. AD-HAIR in Poole, Dorset uses only effective methods to extend your hair, which will not damage your hair. I am a trained and fully qualified hair technician with recognised diplomas in Natural hair technology.
A professional service is there to help you find the right colours, length and volume to blend them together to match your hair for a totally natural look.
Please explore our website and contact me for any questions you might have!
Transformation connections ARE: Gentle Unique application, no heat, chemicals or glue Extensions that protect your hair Re-usable All in one hair extension, can be reapplied and worn for up to a year Exquisite Genuine Remy cuticle hair, ethically sourced Quality you can trust Amaze your friends and family with your new look Transform Length, volume and colour with one simple product
Hair Extensions
:
Hair Extensions : How to...
:
Hair Extensions Gallery
:
Ad-Hair Hair Extensions
11 Sopers Lane
Poole
Dorset
BH17 7EW
Tel:
07974 784 028
Web:
http://ad-hair.co.uk
Hair Extensions - Poole - Dorset - Micro Rings - Transformation connections