Alarm It All
Your car is one of the most expensive purchases you will make in your life and keeping it safe, secure, and running correctly is important.
At Alarm It All our reliable, independent and precise service is carried out by fully trained, qualified and certified staff, with over 25 years of experience. We complete the latest training for the advances in auto technology as and when they become available. We use the latest technology in auto diagnostic repairs and carry out a variety of services for your car so that the best quality work is carried out all the time. Our work ranges from auto key programming, auto locksmith, auto remapping, auto diagnostics and auto security.
Our work includes:
- Providing and installing authorised alarms, immobilisers, CCTV, Hands free kits, trackers, parking sensors and cameras. We are authorised dealers for Cobra, Sigma, Toad, Sterling, Laserline, Digital Systems, Meta Systems, Gemini and Falcon.
- Key and fob programming, keys cut to code and replace locks.
- Auto Diagnostics to determine a fault within the car.
- Car remapping to increase your car economy.
We provide a flexible service to all our customers within the Birmingham area. We understand you are busy so we work around you and arrange a time where we can come and work where your car is located.
For further information don't hesitate to contact via email or phone on 07968 279 288.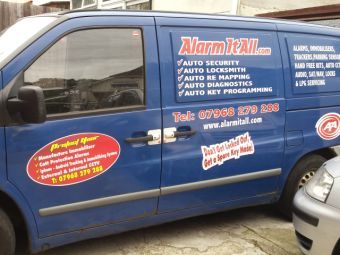 Birmingham
Birmingham
West Midlands
B23
07968279288
http://www.alarmitall.com/
Car Diagnostics Car Alarms/ Trackers/ Immobilisers/ Hnads free kits Car key programming and cutting Car remapping Car CCTV / parking sensors or cameras


Alarm It All are listed in;
Car Audio and Security Directory
-
Car Audio and Security in Birmingham
-
Car Audio and Security in West Midlands
-
Birmingham Business Directory
-
West Midlands Business Directory
Tweet this listing to improve your exposure -
Tweet