Somertons Services Ltd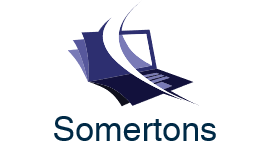 Somertons Services Ltd provides Proofreading and Copy Editing services to those who require help in making sure the final document is just right.
We proofread and copy-edit anything from articles, magazines, CVs & cover letters, manuscripts, websites, and books all the way through to tenders and contracts. No task is too large or small.
Even the best writers sometimes cannot see their own mistakes after having stared at the same piece of text for hours on end! Therefore it's a great idea to get someone else to check over your work. You might not think it, but someone else looking at your work with fresh eyes and a fresh perspective will undoubtedly pick up on small mistakes that might otherwise cost you dear.
We also specialise in Copy Editing and Proofreading services for non-native English speakers who wish to check that their current piece of work is accurate and grammatically correct, and reads as well as it would in the author's first language.
Contact us to find out about our quality guarantee and, for longer documents, we will proofread the first couple of pages for free to prove our competence.
We understand the pressures of time and the likelihood that you have deadlines to meet, so we will do our utmost to support you in hitting your targets.
If you would like to discuss your requirements further and for a free quote please get in touch.
9 Somertons Close
Guildford
Surrey
GU2 9YB
01483 457146
http://somertonsservicesltd.co.uk/
Proofreader Proofreading CopyEditing Copy Editing Writing


Somertons Services Ltd are listed in;
Proofreading Directory
-
Proofreading in Guildford
-
Proofreading in Surrey
-
Guildford Business Directory
-
Surrey Business Directory
Tweet this listing to improve your exposure -
Tweet