reBuy UK are the number one mobile phone recycler in the UK for service and price. Sell your old mobile phone to reBuy UK in just a few clicks.
Is this your business listing?
You can now upgrade your listing to remove other adverts, improve your listing and include a link to your website.
sell my phone sell your phone sell my mobile sell my iphone sell my electronics Mobile Phones Buckinghamshire reBuy Buckinghamshire
reBuy are listed in;
Mobile Phones Directory
:
Mobile Phones in High Wycombe
:
Mobile Phones in Buckinghamshire
:
High Wycombe Business Directory
:
Buckinghamshire Business Directory
sell my iphone sell my mobile sell my phone High Wycombe Mobile Phones Buckinghamshire sell my electronics sell your phone https://re-buy.co.uk/
More Mobile Phones in Buckinghamshire Listings
Note: This is a free listing, other listings and adverts do not appear on Upgraded Listings
PHONE STUDIO
ALL PHONES REPAIR SERVICE AVAILABLE LAPTOP AND MACBOOK REPAIR DESKTOP AND IMAC REPAIRS CONSOLES REPAIR SOFTWARE ISSUE REPAIR BATTERY ISSUE REPAIR TABLETS AND IPAD REPAIR Mobile phone repair shop Primary category Battery replacement Button repair Camera repair Case repair Charge port repair Diagnostic scan Microphone/speaker repair Power button repair Screen repair/replacement Software problems Speaker repair Tablet repair Water damage repair LAPTOP REPAIR CONSOLES REPAIR COMPUTER REPAIRS IPAD SCREEN REPAIR IPHONE SAMSUNG ALL MODELS SCREEN FIX
Amersham, Buckinghamshire
---
Mobile Cases Online
Mobile Cases Online is the One-Stop Platform for Buying Mobile Phone Accessories in UK. We offer a wide range of mobile phone accessories including, Cases, Screen Protectors, USB Cables, Car Holders, Tablet Cases, and much more stuff that is required for your Smartphone. We are a leading Mobile Phone Accessory Wholesaler in UK. Products offered by us come at high-quality and affordable prices. Due to holding a strong position in the market Mobile Phone Accessory Supplier in UK, Mobile Cases Online becomes the trusted and renowned platform to buy every single stuff related to mobile phones. Don't think and shop online for the mobile accessory in bulk in UK.
Buckingham, Buckinghamshire
---
reBuy
reBuy UK are the number one mobile phone recycler in the UK for service and price. Sell your old mobile phone to reBuy UK in just a few clicks.
High Wycombe, Buckinghamshire
---
GR Phones
GR Phones is located in High Wycombe and was created off the back of customer demand from its parent company Gadget Rehab. GR Phones primary objective is providing second hand approved used and refurbished mobile phones (smartphones) and tablets that are affordable and to the highest resale standards. GR Phones will stock all major manufactures including Apple, Samsung, OnePlus, HTC, Huawei, Nokia and many more. For all those who have experienced the exceptional customer service at Gadget Rehab you can expect no less from GR Phones as we have the same team behind it.
High Wycombe, Buckinghamshire
---
Sunley's Mobile Repairs
Sunleys Mobile repairs is a "Mobile" mobile phone repair business that offers iPhone repairs on the spot in around 30 Minutes. Sunleys pride them self on quality so will only use top quality parts and therefore can offer 12 months warranty on all repairs carried out.
We have a mobile workshop which enables us to carry out the repair whilst the customer can continue with their day, therefore offering a quick and convenient service to our customers. We also offer a collection / delivery service on all ipad repairs, the turnaround time is usually 24-48 hours.
We cover Northampton, Milton Keynes and Bedford. For those further a field we offer a post in service which once we have received the device we will ship back out within 24 hours.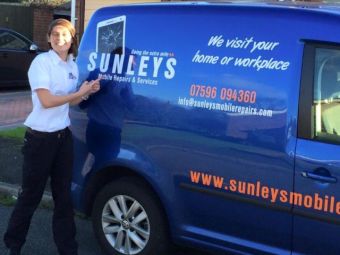 Milton Keynes, Buckinghamshire
---
Best Mobile Phone Deals
Comparte best contract mobile phone deals of popular merchant of UK with Free Gifts offers
Berkeley, Buckinghamshire
---
Tranzformed UK
Tranzformed UK is an electro-plating specialist based in High Wycombe. We have 2 divisions, Retail and Services. The retail division focuses on providing luxury 24ct gold plated items to consumers such as Apple iPods and Apple iPhones, to Zippo Lighters and Laptops. The services division is for customers who already own the item they want plated. The Tranzform Yours service is available in whole host of finishes such as 24ct Gold, 24ct Rose Gold, Platinum and Chrome. This service is available for a wide range of goods please contact us or visit our wensite for more information.
High Wycombe, Buckinghamshire
---
iPhone 4 Insurance
iPhone 4 Insurance: Protect your valuable - and very stealable - iPhone. Want to get covered for theft, water damage, rogue calls and much more? We know very well how much you value your iPhone. Aside from the fact that it took you a lot of sacrifices and money to buy that phone, it is also an important gadget as far as communication and entertainment is concerned. We know that it keeps you connected with your loved ones and that it keeps you entertained as you go along with your day. It may even be the number one thing in your "can't live without" list. And we understand how much you want to protect your precious gadget and we know exactly what you need to protect it.
Aylesbury, Buckinghamshire
---
Corporate Communication Centre Ltd
We have over 24 years experience in the Mobile Telecommunications Industry. We are Mobile Phone Airtime & Blackberry providers leading the way in B2B solutions to suit each business. With no affiliation to any network we are able to give you an unbiased analysis of how to improve your telecoms contract. With an established customer network we are able to cater contracts from one phone to multinational contracts anywhere in the United Kingdom. We maintain a promise to uphold excellent customer service managing each client with same level of service each time. As a family business, we like to develop close working relationships with our clients to make them feel as important as we know they are. All our staff are fully trained in all the network tariffs as well as our engineers, who are also qualified to install and deal with all aspects of mobile phones.
Milton Keynes, Buckinghamshire
---
Mobile Managed Services
Mobile Managed Services (MMS) is the mobile solution division within Data Select, created specifically to provide mobility solutions for the Enterprise market. Because the division is backed by Peter Jones (of TV''s Dragons Den fame) and Data Select Ltd it has the flexibility and entrepreneurial drive to provide the solutions required by the market. Specialising in propositions that cover security, productivity and management and additionally providing a fully managed service for each, MMS has the resources to meet and exceed the ever changing market needs.
Marlow, Buckinghamshire
---
nokia unlocking services
mobile phone unlocking services and sim card sales.
Amersham, Buckinghamshire
---
Find
Mobile Phones near me
- Find out more about
Amazon Small Business Accounts UK