Shades of You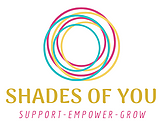 We provide Coaching and Training to individuals and teams.
Some of our courses include;
Exploring Personal Impact
Motivational Interviewing
Emotional Intelligence
Holding Challenging Conversations
Coaching for Managers
Change Resilience
Shades of You are a Learning and Development Consultancy who strive to support and empower managers and leaders to develop core skills so that they can build high performing teams. We deliver high impact, sustainable training in order to support and empower you to reach your personal and business goals.
Through Coaching and Training, we develop Individuals and teams in core skills, self-awareness and emotional intelligence, using a range of tools, including the Insights Discovery profile to help develop your communication, management, sales and collaboration skills.
Our experienced and qualified Coaches provide Executive and Personal Development coaching to identify and knock down obstacles in order to develop you and your business.
We want to support and empower you to grow and develop, helping you to be the best you can be and increase productivity and performance for you and your team.
We can help;
Individuals seeking a career change
Business owners who want to take their business to the next level.
Organisations that want to transform their staff into high performing teams
Exec Boards, Managers and Leaders who want to inspire and motivate.
Based in Southampton and Portsmouth, we cover Hampshire, Dorset, Devon, Somerset, Wiltshire, Berkshire, London, Surrey, West Sussex and the Isle of Wight.
Coaching
:
The Professional Coaches Network
:
Training
35 Reeves Way, Bursledon
Southampton
Hampshire
SO31 8FU
07707 776897
https://www.shadesofyoucoaching.com/
Training Learning and Development Coaching Management and Leadership E-Learning

Shades of You are listed in;
Training and Development Directory
-
Training and Development in Southampton
-
Training and Development in Hampshire
-
Southampton Business Directory
-
Hampshire Business Directory
Shades of You Southampton Hampshire
Tweet this listing to improve your exposure -
Tweet