Welwyn2airport Taxis
2-Falco Gate, Shire Park
Welwyn Garden City
Hertfordshire
AL7 1TW
Click Here For Phone Number

We are Specialist Airport Transfer Company based in Welwyn garden city, Hertfordshire. We are highly recommended for Airport pick and drop off and all journeys. We cover Welwyn Garden City, Welwyn Village, Ayot Green,Codicote,Knebworth, Datchworth, Tewin,Digswell And surrounding area.
Is this your business listing?
You can now upgrade your listing to remove other adverts, improve your listing and include a link to your website.
Welwyn Taxis Airport Transfer in Welwyn Garden City Airport Transfer in Welwyn Taxi Welwyn Garden City Taxi in Welwyn Taxis Hertfordshire
Welwyn2airport Taxis are listed in;
Taxis in Welwyn Garden City
:
Taxis in Hertfordshire
Taxi Welwyn Garden City Airport Transfer in Welwyn Welwyn Taxis Welwyn Garden City Taxis Hertfordshire Taxi in Welwyn Airport Transfer in Welwyn Garden City http://welwyn2airport.com
Taxis in Hertfordshire Listings
Note: This is a free listing, other listings and adverts do not appear on Upgraded Listings
AAA TAXITRANSFERS
Based at stansted airport we provide taxi transfers at affordable prices, your enquiries are dealt with by the drivers not a booking agency which helps to keep the costs down. We offer a friendly, punctual service and are always willing to help with your luggage. We look forward to receiving your call or if you are booking in advance why not visit our website send through your booking details and we will get back to you as soon as we can. All major credit cards accepted online and invoice sent via email so you can print it off for your expenses.
green tye, Hertfordshire
---
Harpenden and St Albans taxis
Harpenden and St Albans Taxis is a leading taxi service in Harpenden and St Albans . We pride ourselves on the punctuality and price of our service being the best around. We will get you where you need to go, when you need to be there! Harpenden and St Albans Taxis is Reliable, Affordable and Quick Taxi Service in St Albans and Harpenden and 24 Hour Airport Transfers Service To/ From St Albans and Harpenden village, We are committed to offer the best possible customer service at the lowest prices. This means that customers do not have to break the bank to get great service. We ensure that customers are not disappointed. We have been getting people around for a long time and in return have learnt greatly along the way. We know what is important to our clients and we have created a service to ensure you arrive on time, feeling comfortable and safe. Here is what you can expect from Harpenden and St Albans Taxis trip... •Clean and comfortable cars •Courteous and professional Service •Efficient and Punctual Drivers •Highly Competitive Prices •All London Airport transfers To/ From Harpenden and St Albans •8 Seater Executive mini bus available •Round the clock 24 hour Airport Transfer service • If you are looking to travel to London Heathrow, London Luton, London Stansted, Gatwick, or surrounding areas, then let us help to make your life comfortable with Harpenden and St Albans Taxi service, Book us online or call us.
Harpenden, Hertfordshire
---
Elstree Minicabs
Elstree Minicabs is the highlighted business in the area of Elstree. Elstree Minicabs is operating the best system in the subject of taxis since last decade and planning for more developments Elstree Minicabs is contributing in the field of Minicabs since last 10 years. We have a bunch of new and modern cars to drive you home. Every month thousands of passenger uses over service. We have a group of expert staff to deal customer with polite and friendly nature. Every customer is very happy to utilize our service and recommend it to their friends and families. we are planning to spread our service in area surround the Elstree. we have establish a very high quality service in a such a short period of time. we have a bunch of drivers that are ready to drive the customer on a comfortably. we are operating the airport journeys and known for airport transfer. Elstree Minicabs have capability of covering the places like Airports, Train Stations, Hospitals, Schools, College, Clubs, Bistros and Bars. We also have a five star Chauffeur Service and work 24/7 to give a luxurious ride. we also have special courier service that is to transfer the parcels and important document with care and safety. We also provide free baby seats with no charge that the baby and parents feel comfy we have a regularly serviced and modern ecofriendly cars. we always show punctuality and set a goals to have time managing scenario. Elstree Minicabs have Meeting and Greet service for the airport that is that the customer is stress free and feel relax while driving home. we have call operators that are highly skillful and help the customer on every instant and tell the customer flight timing online to reduce extra park cost.
Borehamwood, Hertfordshire
---
Speedline Taxis
24 Hour Taxi Service in St Albans
St Albans, Hertfordshire
---
4 Hire Taxis
YOUR NEW LOCAL 24 HOUR 365 DAYS A YEAR TAXI SERVICE
St Albans, Hertfordshire
---
247 Cars Watford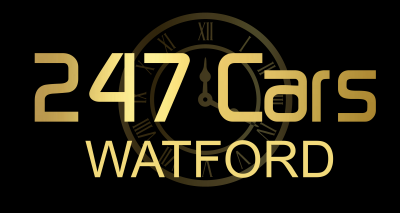 We manage an extensive fleet that is sure to accommodate all your travel needs, from saloon vehicles that seat a maximum of 4 passengers to an MPV which can seat up to 8 (future Hen/Stag parties are much welcomed!). In addition to exceptional punctuality and genuine courtesy, all drivers have been DBS vetted and all vehicles are GPRS tracked and monitored as your safety is of paramount concern to us.
Being a dynamic business means that we empathise with the business needs of others and the stress it can entail. Therefore, we are in a prime position to help you combat that stress by ensuring that the transportation of clients and staff alike are carried out smoothly and comfortably at affordable and reasonable rates. Through our extensive fleet, we take immense pride in being able to cater to whatever your business needs are. Whether you require an executive saloon with extra luggage space to pick up a V.I.P. client from the airport or an MPV to shuttle staff to a seminar, at 247 cars Watford we have your business needs covered.
Due to various commitments such as housekeeping and work, we understand that it is not always feasible for parents and guardians to drop off/pick up their children from school, as much as they would like to.
This need not be a cause for concern as our DBS checked drivers will shoulder the responsibility of the school run by bringing your children back and forth from school.
Their extensive knowledge of the local area and familiarity with rush hour traffic ensures that your child's education will not suffer due to logistical issues.
Our services are not limited to taxi work, we also provide efficient nationwide door-to-door parcel couriering service for those who require same-day delivery. As with all our services, our rates are reasonable, especially when compared against the quality of service on offer. With our substantial workforce, you can rest assured in the knowledge that your parcel will find its intended recipient within the desired timeframe.
Upon opening an account with us, you will be immediately prioritised over cash bookings, not to mention exclusive member-only credit facilities. Furthermore, you will be provided with monthly statements detailing your transactions for your personal and business records.
Do not delay and open an account with the Watford's finest car booking service by calling: 01923 888888
Watford, Hertfordshire
---
ABC Taxis Ltd
Local or long distance tavel Airport transfers All occasions 24 / 7 Free online enquiry quote & Booking Reliable - always on time! Ring Back
Stevenage, Hertfordshire
---
Cassio Cars
Local Waford Taxi / Mini Cab Airport Transfer Service, Number One in Watford, Fast and Friendly Service.
Watford, Hertfordshire
---
Fleet Travel Solutions
Fleet Travel Solutions provides first class transportation services from all UK airports, seaports or cruise terminals to any destination in the UK at competitive rates. Our reputation is built on our commitment to deliver a quality service, by providing clients with a safe, comfortable and reliable transfer 24 hours a day, 7 days a week, 365 days a year . The company offers a range of Saloon, Estate and MPV minicabs and maintains regular and rigorous check of all its cars and drivers. Our drivers are very professional and courteous and will go out of their way to make your journey a safe and comfortable experience.
Barnet, Hertfordshire
---
Stevenage Airport Taxis
Cheapest Airport transfers locally. Saloon / Estate / 8 Seater Book online
Stevenage, Hertfordshire
---
Herts Executive Travel Services
Your journey to your business meeting or to the airport at the beginning of your holiday, needn't be as difficult as you think. Herts Exec, executive travel services provide first class business taxi and airport transfer services across Hertfordshire, London and the Home Counties.
Welwyn Garden City, Hertfordshire
---
Gold Star Taxis
Gold Star Taxis was established in the early 80s with a small proud fleet. With continued growth, expansion and success Gold Star Taxis became one of the biggest fleets in the area. Priding itself on customer service, industry knowledge, and loyalty to the Stevenage Community
Stevenage, Hertfordshire
---
JULIE CLARKE 8 SEATER MINI BUS TAXI
8 SEATER MINI BUS TAXI AIRPORT SPECIALIST 1 - 8 PASSENGERS ANY DESTINATION NEAR OR FAR THEATRES/NLGHTCLUBS/STATIONS/PORTS/WEDDINGS/FUNCTIONS ETC PROMPT RELIABLE SERVICE FULLY LICENSED AND INSURED AIR CONDITIONED THROUGHOUT HERTFORDSHIRE ,WEST ESSEX , NORTH LONDON
Waltham Cross, Hertfordshire
---
Stansted Airport Cabs
Welcome to Stansted Airport Cabs
We offer a luxury London Airport Transfer Service for up to 8 people with luggage for business or Holiday travel. Stansted Airport Cabs taxi transfer service, specialises in travel to and pick up from Stansted Airport including, Epping, Essex, Central London, City of London, Stratford International and Greater London.
Business Travel: Have the room and space to think in one of our large business class vehicles at Stansted Airport Cabs. Individual Air-conditioning controls, laptop charging point is just some of the luxury experiences you can expect when booking a transfer or pickup from Stansted Airport Cabs.
Holiday Travel: Why not start your holiday early traveling in style and comfort by booking your taxi with Stansted Airport Cabs. All our drivers are polite, professional and friendly taking you, or up to 8 people with luggage to Stansted Airport from locations such as, Potters Bar, Paddington, Kings Cross, Euston, London and Greater London.
Broxbourne, Hertfordshire
---
kwickcars
liscensed taxi company in bishops stortford and stansted airport area. 4, 6 and 8 seater vehicles.
bishops stortford, Hertfordshire
---
A.S.A.P
A.S.A.P Is A 24 Hour Taxi Service Based In Knebworth But Also Cover Stevenage And All Surrounding Areas Established In 2003 No Call-Out Charges To Villages No Time And A Half On Sundays No Time And A Half Untill 12:00 At Night No Fuel Charges Account Work Welcome COMING SOON TO OUT FLEET, 2 NEW 8 SEATER VECHILES Call Us For A Price And Be Amazed At What You Will Save!
Knebworth, Hertfordshire
---
Ac Travel
Ac Travel is a family run private hire business that is based in the heart of Hertfordshire and ideally placed to operate throughout most of East Anglia. We understand that when you''re going on holiday it can sometimes be very stressful so, if you are travelling on Holiday or a business trip and need to travel to and from any UK destination while feeling refreshed and comfortable then Ac Travel are here to provide all the comfort and style you could possibly need during your journey. We can pick you up from your home or office and take you directly to your required destination at any time of the day, we can handle all luggage for you and make your trip as simple and comfortable as possible. If you have little ones going with you we can provide a child/and or a booster seat for them, so they can travel comfortably as well, making your trip hassle free.
stevenage, Hertfordshire
---
Borehamwood Taxis
Borehamwood Taxis has developed its network since last decade in Borehamwood and providing services like Minicabs, Chauffeur and Courier Services to its local residents. We operate in the areas like, Edgware, Stanmore, Elstree, Paschetts Green, Radlett, Shenley, Barnet, Enfield and its surrounding areas. We can provide cabs anywhere if it is a station, casino, Hospital, School or Airport we will always there at your doorstep. We have developed our reputation in Airport Transfer Service and cover all the airports in the West of London. We cover Airports like Heathrow, Gatwick, Stansted, Luton and London City. We are entitled as Airport Specialists in the area of Borehamwood. We offer free booking service to get efficient, reliable, neat and clean cabs with friendly drivers. We are the only Taxi Service that provides a variety of cars, starting from Estate car, MPV, 7, 8, 9 seater cars to Executive cars like E-Class Mercedes, BMW or Jaguar that are always at your service. We always send new and clean cars and instruct to provide a good service. We have recruited professional call center staff always ready to make your booking and available 24/7 a year. Borehamwood Taxis have marked their excellent work for last decade. We have surpassed our cars to 100 with professional driver always at your service. In very short tenure our service expended regionally providing similar cabs service in area like Edgware, Stanmore, Elstree, Paschetts Green, Radlett, Shenley, Barnet, and Enfield with reasonable fares. We are trying our best to increase our service to serve the people more. We always welcome our costumer to give us suggestion to improve our taxis service. We have professional staff that always speak friendly and help you in booking. We take complaints seriously regarding punctuality, charging, over misbehavior or dangerous driving Borehamwood Taxis have increased its fleet to 100 plus cars always ready to take you to your destination. We have kept our cars hygienically clean and serviced. Our cars are ecofriendly and climate controlled. Our cabs are very comfortable and stylish. We provide cars according to the occasions which include Toyota Prius, Ford Galaxy and VW Transporters right up to E-Class Mercedes, BMWs and Jaguars. For formal journey we can provide cars like saloons, estates, six to eight seat minibuses. We have licensed cars and drivers. All of our car are taxed and insured and regularly serviced for comfortable journeys. Borehamwood Taxis possess computerized dispatch system make the booking quick and recorded. Our system is capable of saving the booking data of last 6 months journeys. This quality of our system makes the booking easier for the upcoming journeys. For every booking we send the confirmation via text or email service. On every booking our system sends a link which has the information about the driver identity, location and the time of arrival. All of our call operators also give updates too. Borehamwood Taxis hire drivers that are full licensed by PCO, DBS checked. We have staff that can speak strong English and polite nature. We always care about the dressing of our drivers to get a unique identity and don't resemble to our competitors. Our driver possesses high customer service skills. We instruct our drivers to be polite and humble and help the customer with luggage or shopping when needed. We have drivers that have knowledge about the area and know all the routes and shortcuts and they always ensure that they drop you on time. Borehamwood Taxis has released an app to make the booking easier. We offer a downloadable app for iphone and Android users to book and pay online. When the booking is registered you can pay at your convenience. For the quick service you can have our mobile app on Google Play or App Store. We are always ready for delivering best service in the area of Borehamwood. Borehamwood Taxis have a large range of cars from 4 seat saloon taxis right up to 8 seater minibuses and we also special and VIP cars. We have marked our class of service in Borehamwood by providing clean, spotless, climate controlled, fully taxed and insured, PCO licensed and regularly serviced cars. We provide cab to every kind of occasion whether it is needed for schools, hospitals, clubs, pubs, shopping centers or airports you can always find us at your doorsteps. For Executive journeys we provide Executive cars to offer a luxurious ride. We have cars like E-Class Mercedes, BMW or Jaguar for occasions like business travel, wedding and parties or any other occasions. We have six and eight seater cars also known as bigger cars these cars are often used for airport runs and bigger parties for stylish and comfortable ride. All of our drivers are well dressed and experience and licensed by the PCO. Our drivers have excellent customer service skill and helpful. Our driver will always help you with your bags and luggage from door to door. We have stationed our cabs in different areas of Borehamwood to reach the customer quickly and easily. Our cars are clean and spotless and try to cover any kind of job. We are planning to increase our fleet to serve in the more areas. We have located our office that is 15 minutes away from Heathrow Airport and we are always ready for pickups from major airport of London like Stansted, Luton, Gatwick and London City. We offer a "meet and greet" service means that every customer has peace of mind whenever there booking is booked. We have call center staff that carefully monitor time of all arriving flights to ensure that the driver is on time and there is no extra parking charges. The driver will meet inside the terminal with a board name written of the customer and will pick you from the terminal quickly and drop you to your desired destination. Our driver will also help you with your luggage anytime, anywhere.
Borehamwood, Hertfordshire
---
Welwyn2airport Taxis
We are Specialist Airport Transfer Company based in Welwyn garden city, Hertfordshire. We are highly recommended for Airport pick and drop off and all journeys. We cover Welwyn Garden City, Welwyn Village, Ayot Green,Codicote,Knebworth, Datchworth, Tewin,Digswell And surrounding area.
Welwyn Garden City, Hertfordshire
---
TINYS TAXIS Ltd Hitchin 01462 888 888
Tinys Taxis Ltd Hitchin 0800 220 339 A Local family run HITCHIN Taxi service established OVER FIFTY YEARS. We use Executive Type Vehicles as Taxis ALL are Estate Cars being the New Built in Britain Toyota Avensis TR Models, most are under five years old, all have factory fitted Air Conditioning, Satellite Navigation plus REAL TIME GPS TRACKING, We will undertake most journey types including local, Airport & distance work. All vehicles and Drivers are Licensed and regulated by North Herts District Council. Members of the Federation of small Business since 1979
Hitchin, Hertfordshire
---