Quickfix Computers has two branches, Redditch and Banbury. Our Redditch branch specialises in all things Computer and Phone related. Whether it be a smashed screen, failed hard drive or charging issues, we can help!
Computer repairs Phone repairs Laptop repairs Tablet repairs Apple repairs Computer Repairs Warwickshire Quickfix Computers Redditch Warwickshire
Quickfix Computers Redditch are listed in;
Computer Repairs Directory
:
Computer Repairs in Redditch
:
Computer Repairs in Warwickshire
Tablet repairs Laptop repairs Computer repairs Redditch Computer Repairs Warwickshire Apple repairs Phone repairs https://www.quickfix-computers.co.uk/
More Computer Repairs in Warwickshire Listings
Note: This is a free listing, other listings and adverts do not appear on Upgraded Listings
Quickfix Computers Redditch
Quickfix Computers has two branches, Redditch and Banbury. Our Redditch branch specialises in all things Computer and Phone related. Whether it be a smashed screen, failed hard drive or charging issues, we can help!
Redditch, Warwickshire
---
Cotswold Computers

Smartphone - Tablet - Computer - Laptop Repairs
We fix a variety of hardware and software issues for many different devices including iPhones, iPads, Macbooks, iMacs, Laptops, Smartphones, Computers, PCs and Tablets.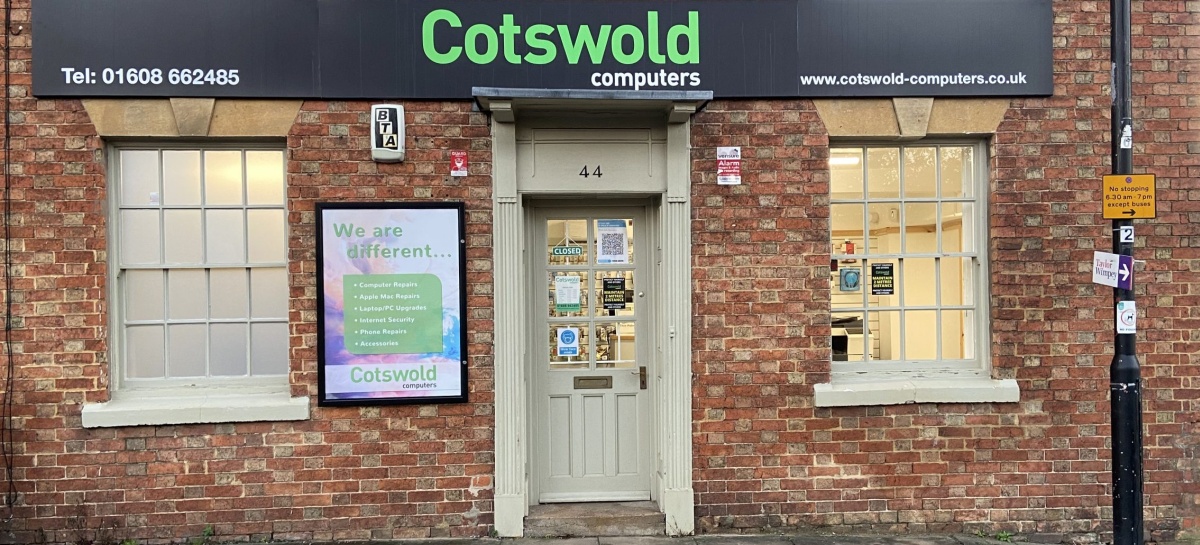 Shipston-on-Stour, Warwickshire
---
Crystal Technology
At Crystal Clear Technology Ltd, we are tech-geeks with the right tools, knowledge and intent to troubleshoot your computer or network-related issues in as little time as possible. As an established business ourselves, we understand that downtime can be frustrating at best but can sometimes cost an important client. This is why we take every emergency call-out seriously and strive to reach you as quickly as possible. Whether you need to set up an IT infrastructure from the ground up or need repairs or ongoing maintenance, we have got you covered. Our experts can also assist you with web hosting issues and cloud solutions. Call us today. Address: Carmarthen, Dyfed, Wales SA33 6EP, United Kingdom
Dyffryn Ardudwy, Warwickshire
---
PC Care Rugby
At PC Care Rugby we believe in making sure our Customers are always Happy. Technology is our passion and our aim is to provide a Trusted and Reassuring Locally based Specialist Service. Designed to be a Competitive, Flexible and Efficient solution to all your Technical Repairs and Issues. With years of experience dealing with both Hardware and Software Issues across a great deal of Devices and Peripherals, our Services are the perfect choice for all Home and Small Business users. For Physical and Onsite Repairs we serve Rugby Town and all locally surrounding areas including all small Villages. Our Remote Support service is designed to serve any location in the UK.
Rugby, Warwickshire
---
getatechie
We provide computer repairs & support for Home Users and Small Businesses. We've made it very easy with our 'Client Support' software. Once you've installed the software we will be able to fix your computer remotely. Don't worry, it is safe and you have full control over the process. What's even better is that you pay less than with traditional computer shops and you don't even have to leave your home. We work across the UK, but you can find us in Kenilworth, Warwickshire.
Kenilworth, Warwickshire
---
Techpoint Centres Limited
Operating from Kenilworth, Techpoint Centres Ltd provides computer repairs, sales and maintenance to clients throughout Kenilworth and Surrounding Areas. Established in 2010, the company has over 15 years of experience in the technology sector. Techpoint provide many services to the general public and business alike and provide a quality aftercare service for all customers. Opening hours are Monday to Friday 9.30am to 6pm and Saturday 10am to 2pm. Helping clients with their IT requirements, the company provides the general public and businesses with a professional service. With a retail shop, on-site workshop and friendly, knowledgeable staff. Techpoint provide many services such as virus removal and data recovery, in-store and in-home setups and installations, media services and remote support, consultancy, security (CCTV) and training. Techpoint provide a large selection of quality compatible ink cartridges and computer accessories at competitive prices. Interested in purchasing a new desktop or laptop Techpoint can provide expert advice to ensure that it is the latest product at the best price.
Kenilworth, Warwickshire
---
BuzzTech Digital Limited
Computer sales and repairs, Boys toys Gadgets and Gizmos.
Alcester, Warwickshire
---
Rugby Pc Repairs
Desktop and Laptop repair services in Rugby area. We specialise in mobile computers repair in your home at the time to suit you. Our working hours include evenings and weekend. Work undertaken: Desktop repairs Laptop or notebook repairs, General computer maintenance, IT helpdesk and troubleshooting, Peripheral installation, Hardware upgrade. Brief curriculum: 100s of successful repairs Over 10 years of experience in IT Working hours to suit you Serve Rugby area + 5 miles radius. What you will get: Complete mobile repair service Collect and return service if necessary Fixed price before any work commence. Same day call out. No hidden charges. No call out charges. No hourly charges. Areas serviced: Rugby + 5 miles radius
Rugby, Warwickshire
---
Zen Computers
Mobile computer repairs, IT support & maintenance services for home PC users, small businesses & schools based in Rugby, Daventry, Coventry, Kenilworth, Leamington Spa, Warwick and all surrounding villages and areas.
Rugby, Warwickshire
---
Nuneaton Computer Repairs
Nuneaton Computer Repairs Ltd is a family run business, we are commiment to provide the very best service to the local community and surrounding area. With over 12 years experience in the trade we can quickly and accurately diagnose your problem and recommend the correct course of action. Before choosing a repair company we suggest you check out their qualifications, we are proud of our staff training program and display our internationally recognised certificates in the shop for all to see.
Nuneaton, Warwickshire
---
Affinity IT Solutions Ltd
Affinity IT Solutions provide local IT support to businesses in and around Stratford upon Avon, Warwickshire. We are a Microsoft and Dell partner ready to help you make the most out of your investment in IT. We can assist you with any infrastructure problem or project that you may have, from configuring a single PC, to installing and configuring an entire network of PC''s and servers.
Stratford-upon-Avon, Warwickshire
---
G & R Computers
Sales and repairs of computers including virus removal, networking, House calls, Laptop repairs. Business or Personal Customers. NO FIX NO FEE.
Stratford-upon-Avon, Warwickshire
---
Rebel IT Enterprise
Rebel I.T Enterprise Leamington Spa based I.T technician, who offers low cost P.C/Laptop repair''s. With an in-depth knowledge of Windows operating systems, and experience in Linux distributions. Work carried out throughout Warwickshire.
Leamington Spa, Warwickshire
---
PC I Fix
Pc repairs and advise you can trust. No Fix No Fee All jobs from Virus problems, Custom built PC''s to remote support * Viruses * PC Repairs and builds * Hardware * Networking * Software Problems, iTunes to Office * All Microsoft Windows Systems * server solutions / maintenance * Remote Support Call for Advise and Problems Tel: 01789 550860
Stratford-upon-Avon, Warwickshire
---
Warwick Laptop Repairs
Warwick Laptop Repairs is a small, professional business specializing laptop and PC repairs to clients throughout Warwick, Leamington and surrounding areas. http://www.warwicklaptoprepairs.co.uk/ We specialise in diagnosing and repairing all makes of laptops and personal computer problems, no matter how small. We understand that your computer has become an important part of your life, and that''s why we offer a same day collection service. We strive to return all computers back within 48 hours, subject to availability of parts. All work is quoted on prior to commencing work in the event of us not being able to repair it we have a "No Fix - No Fee" policy. As your computer may contain a lot of private & confidential documents and data, you need someone that will respect your confidentiality. All machines are worked on by the owner, so no third parties will have access to your sensitive information.
Warwick, Warwickshire
---
Help! Computer wizards
Guaranteed to be the cheapest! I do not charge per hour, but per fix. The price is negotiable and depends largely on the complexity and amount of work done. To give you an idea of cost, it could range form £5 for a very simple job to £20 for a more complicated one (but that still makes me extremely cheap!). If I am unable to solve your problem, I will charge you nothing! Simply contact me and arrange to hand over the computer/laptop to be fixed. For legal reasons, which protects both of us, the condition of the device will be documented upon receipt and when it is given back. I assure you that I am very good at what I do and have done this sort of work quite a lot in my life. Give me a try and remember, NO FIX = NO FEE!
Rugby, Warwickshire
---
Bad Apples
Based in Birmingham (UK), Bad Apples has over 12 years experience in the computer repair line of work, with the focus on providing Apple Mac repairs to the general public and businesses throughout the West Midlands region. Our expert staff allow clients to get back on track with a service that is cost effective every time. With highly skilled technicians to degree level, they can even repair Logic Boards. We offer a free health check for every customer, tutorials and many other services. Bad Apples has an expanding customer base located in and around Birmingham, including BBC, Channel 4, Fused Magazine, Professional Musicians, Vogue, Professional Photographers, Design Agencies and many more.
Stratford-upon-Avon, Warwickshire
---
Coventry Computer Repairs
Welcome to Coventry Computer Repairs. We provide computer repair and IT services to home users and small businesses in Coventry and the surrounding areas. We are specialists in diagnosing problems on laptops and pc''s and repairing them, we also specialise in computer upgrades. If you''re having problems with upgrades, or your computer is running slow, or even if it''s dead, we can help!
Coventry, Warwickshire
---
Logical Computers Ltd
Logical Computers Ltd is an independant local supplier (based in Stratford Upon Avon) of computer systems, peripherals and consumables. We also service and repair PCs, Servers and Laptops as well as supply quality components. Come and see us in our retail shop and benefit from our many years of experience and friendly service. Logical Computers provide local, professional expertise in PC / Laptop repair and maintenance, fault diagnosis, virus & spyware to home and business users within Stratford-upon-Avon & surrounding areas. Logical Computers extensive workshop facilities include the latest in software & hardware to help with the various problems that can happen with PCs & Laptops.
Stratford-upon-Avon, Warwickshire
---
IT Fortress Ltd
I would like to tell you a little bit about the team who form the foundations of this company and make it the sucess it is today. A mixed bag of qualifications and experiences spanning a large Information Technology spectrum. Our strongest areas lie with Microsoft products through the software ranks of Desktop and Server operating systems and services, coupled with Cisco networking, IT security skills and so much more. It doesn''t matter whether it be backup and restore, cable management, migrations and upgrades, or IT projects, the skill set here is second-to-non and have over 20 years experience in this industry. The areas of support that we cover is Warwickshire for on-site support and remote support, but we cover the whole of the UK for remote desktop and server support. IT Support Warwickshire covers Nuneaton & Bedworth, Leamington Spa, Warwick, Stratford-Upon-Avon, and Rugby. We can provide extensive and in-depth knowledge, support, advice, and help within the following service areas; IT Support Computer Support Server Support Remote Support Remote Server Support Remote Desktop Support Remote Access Support Computer Network Support Home PC Support Rescue My Computer Maintain My Computer Speed Up My Computer Computer Viruses Virus Scanning Business Server Support Enterprise Infrastructure Support Small Business IT Support Medium Sized Business IT Support Corporate IT Support IT Project Management Information Technology Project Management Support Maintenance Contracts 24Hr IT Support Call Out IT On Site Support Data Backup Disaster Recovery Backup and Restore Novell Administration Microsoft Administration Apple Mac Administration Unix Administration Linux Administration Novell Server Administration Microsoft Server Administration Apple Mac Desktop Administration Unix Server Administration IT Network Services Network Connectivity Network Design Network Monitoring Network Internet Services Network Security Network And Data Cabling Network And Server Installation VPN and Remote Access Solutions Network Cable Management Network Migrations Network Upgrades Server Decommissioning Migration Planning IT Security Support Physical IT Security Malware Protection Information Security Technical Security Audits IT Security Ploicies and Procedures IT Security Training IT Security Threats IT Security Standards IT Network Pentration Testing IT Vulnerability Assessment IT Security Managed Systems IT Security Monitoring Solutions Digital Forensics Computer Forensics Mobile Forensics Data Recovery Password Recovery Electronic Discovery Secure Data Erasure Child Protection Software Solutions
Dunchurch, Warwickshire
---
Logan IT Computer Repair Services
We perform On-site Computer Maintenance at your Home or Business Premises in the county of Warwickshire, this includes the following Services :- Virus and Spyware Removal Software Problems Solved Network Problems / Setup Data Recovery Laptop Repairs New Computer System Installations Broadband and Wireless Setup Transfering Data General Computer Maintenance and Repairs Health Checks
Warwick, Warwickshire
---
BlueMouse Computer Solutions
Servicing the Rugby area and surrounding villages, I offer a complete solution to all your computing needs. Keeping local i can keep my cost down and offer a fast friendly service without the jargon. New computer systems Upgrades to old/new systems Network solutions Internet/Broadband setup Software re installations Internet security installations Pc tuition Virus/Adware/Spyware removal
Rugby, Warwickshire
---
scotts pc services
i offer a range of computer services and repairs for desktop and laptops. internet connections troubleshooting antivirus/spyware removal and prevention servicing and upgrades training please phone for a quote
Stratford-upon-Avon, Warwickshire
---
DR Repairs
DR Repairs Computer and Laptop repairs We offer a full range of repairs and upgrades to desktops and laptops. We also undertake data recovery from a wide selection of drives. FREE internet security and gift for every customer. Please see are website for more infomation and contact details.
Stratford-upon-Avon, Warwickshire
---
Wilkinson
GOLDNET IT offers over twenty years experience in the IT sector serving the small businesses and the home user. Offering: Upgrades, Servicing, Repairs, Maintenance, Debugs, Fixes, Installations, Bespoke Pc Design NO FIX NO FEE Answer Machine 24 hrs 020 3239 3780 Direct 07794 994 529
Kenilworth, Warwickshire
---
Computer Solutions
Computer Solutions have been trading since 1988 and have a vast expert knowlege in looking after your P.C. We also provide a range of services for the home user or small to medium sized business. Operating on a mobile basis allows us to visit sites, which might be in more rural locations, where it might be inconvenient to transport your I.T hardware to the nearest shop. We also provide online support using Citrix, database application programming and web design services.
Kenilworth, Warwickshire
---
ASL Computer Services
ASL Computer Services specialise in providing Computer and Network support & repair services for small businesses & homes in Warwickshire
Rugby, Warwickshire
---
Ngd Computer Repair
Ngd computer repair specialise in fixing an array of pc, laptop and network based problems. We're local to Stratford and the surrounding area. We will price match any company. We price our work fairly understanding that not everyone can afford the mainstream prices. For more info check out our website.
Stratford-upon-Avon, Warwickshire
---
Computer Bits n Pieces
Computer maintenance and repairs. We provide a service to the home user, doing repairs, maintenance and problem diagnosing to most PC's and laptops. We operate in Leamington Spa, Warwick, Southam, Coventry, Kenilworth and surrounding towns and villages.
Leamington Spa, Warwickshire
---
Fix N Chips
Fix N Chips - Onsite PC Repair & Technical Support in the Midlands Fast, Friendly & Affordable Service you can Trust. Local Engineers covering the Midlands for Home & Business users. Software and Hardware supplied and installed. PC Repairs Windows Installations & Upgrades Engineer Hire Hardware & Software Upgrades PC Installs Wireless broadband Virus removal Data Backup & recovery Memory Upgrades Hard Drive Upgrades PDA Install Webcam installation Web design for home and e-business, See the website for our latest offers! FREE Technical Advice over the phone. We make IT work for you.
QZZ
Coventry, Warwickshire
---