National Force Security Services
Brooklane Birmingham
Birmingham
West Midlands
B13 0TS
Click Here For Phone Number

National Force is a leading security provider delivering the very highest quality service to each and every organisation we serve. We provide a range of integrated security solutions which include; Mobile Patrols, Manned Guarding, Event Security, Key holding & Alarm response, Dog unit, Public, Commercial, Retail and Residential security.
Is this your business listing?
You can now upgrade your listing to remove other adverts, improve your listing and include a link to your website.
Mobile Patrol Security Officers Manned Guarding Alarm response Key holding Security Services West Midlands National Force Security Services West Midlands
National Force Security Services are listed in;
Security Services Directory
:
Security Services in Birmingham
:
Security Services in West Midlands
:
Birmingham Business Directory
:
West Midlands Business Directory
Alarm response Manned Guarding Mobile Patrol Birmingham Security Services West Midlands Key holding Security Officers https://nationalforce.co.uk/home
More Security Services in West Midlands Listings
Note: This is a free listing, other listings and adverts do not appear on Upgraded Listings
National Force Security Services
National Force is a leading security provider delivering the very highest quality service to each and every organisation we serve. We provide a range of integrated security solutions which include; Mobile Patrols, Manned Guarding, Event Security, Key holding & Alarm response, Dog unit, Public, Commercial, Retail and Residential security.
Birmingham, West Midlands
---
Region Security Guarding
For those interested in securing your premises and protecting yourself against thieves and potential vandals, then contact our Security Company Birmingham today. Region Security Guarding is based near the City of Birmingham but we offer our security services nationwide and we understand businesses requirements when it comes to crime, theft and burglary. We offer security for all types of businesses in Birmingham and will offer you the best advice to protect your property with a unique cost-effective solution.
Birmingham, West Midlands
---
Aremco Barriers
Aremco Barriers is an independent British manufacturing company that offers a range of cost effective and economical traffic and pedestrian access control products, for both the domestic and commercial markets. The range of products on offer have been designed for a variety of purposes and can be adapted to meet specific requirements. The categories of pedestrians and vehicles that qualify for access are determined by the objectives of the scheme. Similarly, the time duration of restriction should also be chosen to meet the scheme requirements.
Cradley Heath, West Midlands
---
Sumos Security Solutions.
Our security services In Birmingham, Wolverhampton, The West Midland And Walsall provide door security, retail loss prevention officers, static security, Manned gaurding, Alarm response, CCTV installation and monitoring services.
Westhill, West Midlands
---
Acre & Tweed
Acre & Tweed Bespoke Security services in Birmingham, London and around the UK. We bring a fresh approach to the provision of Security Services. Our range of security services includes K9 Security dog units, manned guarding, drone surveillance, event security and dog handler training. We provide are tailored to suit your exact needs and requirements. Bespoke means Bespoke, every and all requests no matter how big or small are met by our highly trained and professional management team. Be it high profile event security, building site or greenfield site that requires a security presence, Acre & Tweed are here to help.
Bromsgrove, West Midlands
---
Spy Equipment UK
Spy Equipment UK are leading providers of spy gadgets for any situation. Working to supply both businesses and individuals with the spy products they require to determine the truth. We supply the most advanced pieces of equipment. Devices such as spy cameras, listening devices, vehicle trackers and counter surveillance tools help our customers collect crucial and decisive evidence. With 100s of savvy pieces of spy equipment to choose from, we really do have a tool for any scenario or situation. We manufacture and distribute our spy equipment here in the UK. At Spy Equipment UK, we are proud to provide the businesses and individuals of the UK and the rest of the world with cutting edge technology that gets results. Our pieces of spy equipment are distributed throughout the UK, Europe, America and beyond. If you would like our professional help at all, we are here to provide advice and to point you in the direction of the most appropriate solution. Our team is made up of ex-private investigators and police officers, therefore we are best positioned to advise on the moral use of spy products. 
Coventry, West Midlands
---
Kopek Security
Kopek Security LTD is a provider of security services up and down the country. As well as providing manned or canine assisted security teams, assisting with your stop and search policy, we can provide vehicle escorts. Whether transporting freight by road or rail, our security solutions can provide the support and infrastructure you need to protect your valuable goods. Our security consultants can analyse your plans, carrying out a comprehensive safety and security audit. We will put in place personnel to help you monitor your assets every step of the way, using sophisticated electronics. CONTACT KOPEK
Nuneaton, West Midlands
---
Security Guards Birmingham
Founded in 2005, Security Guards Birmingham have been providing quality and professional Security Services to a large variety of clients for many years. We are dedicated to making sure our clients, their businesses and their property and protected and provide a vast amount of Services to ensure this.Our services are always to the highest standard possible and we promise to always get everything right first time. Our Services include Static Guarding, Retail Security, Mobile Patrol and Construction Security.
Birmingham, West Midlands
---
247 Alliance Ltd
SECURITY SERVICES, MOBILE PATROL, VACANT PROPERTY INSPECTION RETAIL SECURITY, KEY HOLDING
Birmingham, West Midlands
---
cctv problems solved
Cctv installation Birmingham Specializing in digital Ultra low light cctv cameras switches Wi-Fi and networks in and around Birmingham and Solihull Dorridge, knowle,Shirley, Olton,marston green,coleshill,castle Bromwich,water orton,shard end.
Birmingham, West Midlands
---
Security Company Birmingham
Region Security Guarding is based in the City of Wolverhampton but we offer our security services nationwide and we understand businesses requirements when it comes to crime, theft and burglary. We offer security for all types of businesses in Birmingham and will offer you the best advise to protect your property with a unique cost effective solution. In the city centre of Birmingham alone there are around 630 crimes reported each month on average (July 2014). Region Security aims to reduce this and protect the people and businesses of Birmingham. We work our hardest to deliver efficient and reliable security guard solutions to our customers, providing only the most professional guards and experienced officers within the Birmingham area.
Birmingham, West Midlands
---
Region Security Guarding LTD
Region Security Guarding provides a range of security services delivered by a team of trained professionals. As one of the industries leading companies, Region Security Guarding carries years of experience in the security sector.
Wolverhampton, West Midlands
---
TGF Security
TGF Security is an award-winning and accredited security company based in Birmingham that provides SIA licensed security guards across the West Midlands.
We provide a wide range of security services such as static security, retail security, key holding and alarm response, mobile security patrols, gatehouse security, construction and building site security, hotel security, manned guarding and more.
Our security company operates 24 hours a day, 7 days a week, 365 days a year and we have SIA licensed security guards available and ready to be dispatched at short notice for long or short-term assignments.
For more information visit www.tgfsecurity.co.uk or contact us today for a competitive and free no obligation quotation.
security company birmingham, security companies birmingham, security agency birmingham, security services birmingham, security guards birmingham, security firm birmingham, security firms birmingham, security agencies birmingham, manned guarding birmingham, mobile security patrols birmingham
Birmingham, West Midlands
---
CCTV101
UK's leading provider of CCTV and Surveillance technology. Visit our website today for the best deals on CCTV!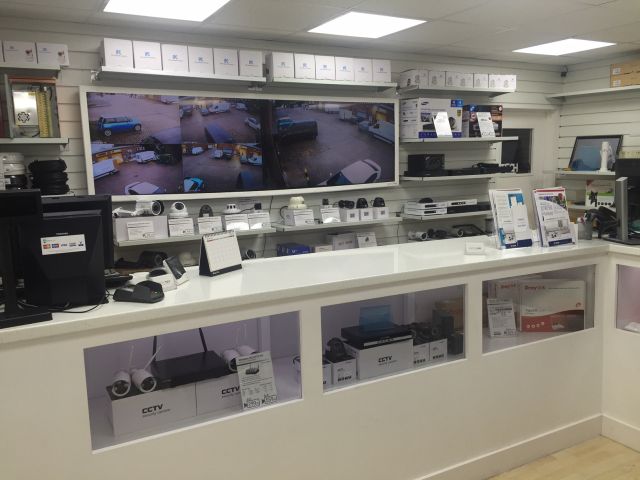 Birmingham, West Midlands
---
OMK Limited
OMK Limited provides bespoke security systems solutions. We design, supply, install and maintain security systems solutions to fit the needs of your home and business. OMK Limited provides bespoke security systems solutions. We design, supply, install and maintain security systems solutions to fit the needs of your home and business. We are able to put your mind at ease with up to five years no quibble guarantee available on products supplied. We supply CCTV (IP or Digital), Door entry Systems, Access Control, Intercoms, Intruder Alarm, Carbon Monoxide Detectors, Bollards and Security Lighting. We are fully committed to delivering excellent customer service and providing great value for money for all our clients. Underpinning our commitment are our values which are based on integrity, professionalism, Innovation and consistent excellence in service.
Birmingham, West Midlands
---
Black Country Security Solutions
cctvB.C.S.S. Security systems for every need. domestic and commercial. intruder cctv access control intercom systems security lighting installations, upgrades, repairs and servicing at very competitive prices. call outs from £55 installs from £200 call freephone 0800 771 0094 alternatively contact our sales representative directly on 07504 553 570 discounts for OAP available.
Dudley, West Midlands
---
UNIQUE SECURITY LTD
UNIQUE SECURITY LTD is commited to excellence in quality and service. We provide a safe and secure enviroment for your business 24 hours per day 365 days per year. We have our own qualified in house BS7858 Vetting Officer. LATEST OFFERS Static Guards from £8.40 per hour Mobile Visits from £14.99 per hour Plus many More ( Upon Request) SPECIAL OFFERS * 120 Hours FREE for all 1 year contracts saving a massive £958.88 annually ( Min 10 hrs per day) FREE Security Warning Signage Service For any of your projects until the need arises for you to require out of hours guarding. Acting as a deterrent , as well as a means of advertising our company. Call us FREE for a Quotation 01384 411 250
Cradley Heath, West Midlands
---
A1 Technology Burglar Alarms
A1 Technology provide security installation, CCTV, burglar alarms, door access and intruder alarms across the West Midlands, based in Birmingham.
Birmingham, West Midlands
---
Birmingham Security Services
Birmingham Security Services LTD is a local security company offering manned guarding security to Birmingham and the West Midlands region. We specialise in all type of manned security guarding services.
Birmingham, West Midlands
---
chasecheaters
Chase Cheaters are a west midlands based company who provide Pre matrimonial investigations, post marriage investigation, surveillance on adultery cheating, latest bugging surveillance, private investigation for suspicion within family eithers on partners or adult kids. www.chasecheaters.com we also design and implement an operational plan, carry out Threat, Risk Assessment, Surveillance, Venue Security, Conduct Reconnaissance, Evacuation by Vehicle and Foot, Anti Ambush Drills, Vehicle and Person Search, Route Map Planer, Effective Negotiation Skills, Team Briefing Skills , Embus Debus, Drive in Convoy Drill. We speak English Persian Hindi Urdu Punjabi
Birmingham, West Midlands
---
Prime Security Solutions
Prime Security Solutions provides a range of security services delivered by a team of trained professionals. As one of the industries leading companies, Prime Security Solutions carries years of experience in the security sector. Based in the West Midlands, we deliver our services across the whole of the UK. These include Security Guarding, Static Guarding, Mobile Patrolling, CCTV Monitoring, Alarm Response, Key Holding, Events and Store Detectives. Operating in the commercial, industrial, private and public sectors Prime Security Solutions has achieved much success through building on its policy of integrity, credibility and partnership with all of its clients.
Wolverhampton, West Midlands
---
Securops Ltd
Securops Ltd is a professional security provider that specialises in the provision of professional security personnel throughout the UK. Securops Ltd is managed and run by individuals with extensive experience and exposure to the security industry. With over 40 years of combined experience, the management team are fully equipped to provide an unparalleled level of service to all of its clients. Securops Ltd specialises in providing a professional security personell with a head office that is fully equipped and able to meet any requirements necessary to help your business succeed. They vastly reduce the day to day running costs of your business and at the same time they improve the service you offer. The Securops Ltd was created with the sole aim of providing high quality security services. They pride ourselves in reaching you goals and to ensure they do, they only employ the most experienced personnel throughout the business. Securops are a professional security provider that specialises in the provision of professional security personnel throughout the UK. They are experts in Static Security, Mobile Patrols, Events Security, Key Holding, Alarm Activation, Vacant Property Inspections and Facilities Management. People drive their success - They have built long term relationships with their Clients based on trust, service and results. It is a fundamental principle of the Securops Ltd to conduct all its transactions with integrity and in accordance with good business ethics and recognised industry codes of practice. State of the art technology - They use cutting edge technology to ensure they are able to keep up with this fast paced sector, this enables us to be ''proactive'' rather than ''reactive'' which in this industry is essential. Their secure internal infrastructure is fully protected in regards to disaster recovery and they have multiple fail over plans in place should an incident occur, this provides piece of mind for their clients that they can provide a truly 24/7 service.
Telford, West Midlands
---
Dt security
DT Security is located in the heart of the black country and covers the whole of the west midlands, we have experience in the following area''s Static guarding retail guarding mobile patrols property inspection
Dudley, West Midlands
---
Kwik Fab Ltd
Kwik Fab specialise in Safe and Security Cabinet Removals and Installations across Birmingham & the UK. We offer a professional and reliable Safe Removal service
Birmingham, West Midlands
---
Training 4 Employment
Training 4 Employment's highly-qualified security specialists are some of the best trainers and assessors in the industry. From our training centre in Birmingham, we deliver courses in security-related vocational specialisms, including: SIA Door Supervision, First Aid At Work, CCTV Operation, SIA Security Guarding, Close Protection & more.
We have a very high first-time pass rate and we help you to find employment once qualified, with assistance in CV building and provision of references for future employers.
Birmingham, West Midlands
---
Time Sec (UK) Limited
We are located in Birmingham and rapidly growing throughout the United Kingdom, able to cover most sites at short notice and at the right price. The company has a combined experience of over 50 years in the business of Security Solutions and have everything from security guards to dog handlers available anywhere in the UK. We are ISO9001:2008 accredited in Manned/Door Guarding in accordance with BS7499, BS7858 and BS7960. The company is also a member of Birmingham Chamber of Commerce Group and all of our guards are Security Industry Authority Licensed. Most of our guards are fully trained to work within guidelines laid down by the Construction Skills Certification Scheme (CSCS), so you can rest assured that they are fully up to speed on current health and safety requirements. To accompany this, before we commence work on any site we complete a site survey which is then used to compile a comprehensive set of assignment instructions, this will give clear instruction for any security staff working on your site. If required we can also fit an Electronic Guard Tour System so you will have the peace of mind that any site we secure is being looked after properly.
Birmingham, West Midlands
---
Scan-X Security Ltd
Suppy, Service & Repair of Security X-ray machines & Metal Detection archways Company Profile Scan-X Security Ltd is a UK based company offering impartial advice on parcel and packaging screening, People screening & asset protection. Scan-S security Ltd is a specialist supplier of detection equipment for letter bombs, contraband and explosive detection. Located in the Midlands, Scan-X Ltd is ideally placed to offer a national solution for parcel & mail detection and x-ray systems. We also offer an extensive x-ray and maintenance support package that help protect your equipment both in the UK & Europe. • Postal x-ray screening • Portable x-ray screening • Security checkpoint x-ray screening • Bulk Baggage screening • Handheld metal detectors • Walk through metal detectors • Shoe Scanning Equipment • Service & repair of existing x-ray & metal detection products • supply of re-conditioned products • 30 strong fleet of X-ray machines for event security • Supply of new, used & re-conditioned spares. Our products are used by Governments, Military establishments, Prisons, Police and Commercial organisation throughout the UK where the Scan-X Security brand is known as providing reliability and performance at highly competitive prices.
Walsall, West Midlands
---
C COMPANY SECURITY
Welcome to C Company Security Services What can C Company Security offer? C Company Security is a West Midlands based company built around a team of highly trained and experienced, mainly ex-military personnel who demand the best from themselves and all those that work with them. Our officers both male and female have the unique training and specialist abilities to tackle any security assignment, whether it is Front of House or Front line Close protection. We pride ourselves on our professionalism. Security is not just about looking good. It is about listening to our clients needs, planning, making the correct decisions and then carrying the task out with a minimum of fuss. When you approach C Company Security, we will work with you to determine the ideal solution to your potential security threat. At C Company we can offer professional dedicated man power on a 24-7 basis to the following locations and jobs: Construction Site Security • Shopping Centres • Retail Officer • Distribution / Warehousing • Security Officer • Training Division • Public Space CCTV • Key Holding and Alarms • Mobile Patrols •Close protection Operatives Many more locations Available on request Don't hesitate to call Paul on 07535684718 or 07907938464
Birmingham, West Midlands
---
X Force Security UK LTD
X Force Security and Training provides Security and Training to clients throughout the UK. The company, which is located in Rubery (Birmingham), was set up in 2009 and the employees have many years of experience in the Security and Training industry sector. With state of the art facilities and fully qualified staff, the company delivers a professional Security and Training package to businesses. The service is designed to be cost effective, helping clients to achieve cost effective professional Security and Training. The company is able to offer bespoke Security and Training packages, including manned guarding. X Force Security and Training also provide a wide range of training courses, the courses on offer are designed for any person who wishes to enter the Security Industry X Force Security and Training also provide many other courses including First Aid and Health and Safety.
Birmingham, West Midlands
---
Security Guards UK
Security Guards UK is one of the leading national security providers based in the West Midlands, providing a range of services including static guards, key holding, mobile patrolling, CCTV monitoring, alarm response, gate house & reception security. Our tried and tested, guards are fully trained and licensed to meet SIA standards, resulting in a dedicated team you can rely on to protect you and your assets. Security Guards UK can offer you an extensive range of security services to help protect your premises against crime. Let our experienced and knowledgeable staff advise you on your security requirements. Our commitment to quality and high standards mean that when you place yourselves in our hands, you are guaranteed a professional, cost effective solution that is supported by the most important factor of all, reliability. With our quick response time, Security Guards UK will dispatch a high quality, cost-effective solution to suit your individual security requirements
Wolverhampton, West Midlands
---
Gallinet Limited
Gallinet provides specialist employee & lone worker safety monitoring and outsourced control room services to multi-thousand employee corporations, small to medium business and individuals. Gallinet provides it''s fully featured scheduling, staff management and monitoring application PeopleHours as either a stand-alone or fully managed solution. Security and cleaning staff, nursing homes, hotels, petrol stations, out-call engineers, retail chains, doctors, vets & visiting health workers, to name a few industry sectors that benefit from Gallinet''s services....
Dudley, West Midlands
---
Grid Services Limited
Grid Services Limited, provides equipment, installation, and maintenance for IT and security to its customers, we offer a wide range of packages to suit all budgets and tailor them to suit our customers' requirements. The type of work we do is • CCTV, installation, upgrades, maintenance • IT, installations, upgrades, maintenance, security, helpdesk • Access control, • Integration of security, IT, Access control, we are therefore able to offer a complete package and can tailor to customers needs. We do bespoke system designs and installations, our flexibility and ability to encompass all IT, security and Access control needs is our key to success. We liaise with our customers to address their needs and guide them to ensure they get the system that fits their requirements. A detailed specification is drawn up by our experienced staff and all installation is done by our highly experienced and committed team.
Birmingham, West Midlands
---
Armstrong Security Guards
If you are looking for highly professional and affordable security guard company in Birmingham, look no further. Armstrong guards UK Ltd. Offers highly flexible and customized solutions to meet your budget and security requirements. With rates starting from 7pounds/hour, we are one of the most accommodating security companies in Birmingham and London. We supply security guards in Birmingham at an emergency basis at no extra charges. Probably, we are the only security company in Birmingham, who care less about profits and more about providing excellence and higher value to our customers by keeping their costs at as low as possible. Our Birmingham security guards are highly experienced and fully SIA licenced and meet British industry standards BS7499 & BS7858 All our security guards in Birmingham are SIA licensed and MAYBO trained to ensure high standards of safety for your business. We are a modern elite security company providing security guard services in London, Birmingham, and Manchester and surrounding counties to a wide variety of clients, with very different security needs, throughout the UK. We provide for long and short term contracts plus emergency and temporary cover at short notice.
Birmingham, West Midlands
---
Blitz Security (uk)
WE SUPPLY AND INSTALL A WIDE RANGE OF SECURITY PRODUCTS. WE ARE ACCREDITED INSTALLERS OF INTRUDER ALARMS / CCTV / ACCESS CONTROL. WE CAN ALSO PROVIDE PHONE SYSTEMS AND GATE AUTOMATION. WE CURRENTLY INSTALLED GATE AUTOMATION AT SCHOOLS IN THE BIRMINGHAM AREA. WE PROVIDE POLICE CALLING INTRUDER SYSTEMS (GRADE 2/3) REPAIRS AND UPGRADES TO CURRENT SYSTEMS WITH 24/7 CALL OUT AND ADVICE
Wolverhampton, West Midlands
---
Secure4 Ltd
With many years experience covering a broad range of security services we pride ourselves on being able to provide the best security solution for you. Regardless of what your requirements are we ensure that we provide solutions specifically tailored to your needs. We understand that, although at times similar, all our customers are different and with that in mind we make sure that we listen to what it is you require. We Provide solutions in the following areas: Corporate Security Services. Event Security. Static Guarding. Vehicle Patrols. Dog Handling. Door Supervisors. TV & Film Sets. Unlock & Lock Ups. Key Holding. Escorting. Surveillance. Retail Security. Security Consultancy. Residential Security. Close Protection. CCTV & Alarms. Executive Chauffeuring. Private Investigation.Weddings & Parties. Gates, Barriers, speed restriction & Fencing.
Coventry, West Midlands
---
Crime Shield Security Gates
Crime Shield offer security access solutions to businesses of all kinds. The can provide and install gates, roller shutters and grilles of all kinds. They operate across the Midlands, in areas such as Birmingham, Coventry, Wolverhampton, Leicester, Derby and Nottingham.
Brierley Hill, West Midlands
---
Skyline Resourcing Ltd
Skyline Resourcing Ltd are a security contracting firm based in Walsall, West Midlands. We offer many security services across the industrial, commercial and public sectors, our highly trained and reliable security officers guarantee a high quality service to all our clients.
Walsall, West Midlands
---
sidcurity
static security guard and security services providing 24/7 cover,including holidays and christmas, specializing in building sites,warehouse,shops,shopping complex and private land
Birmingham, West Midlands
---
safes.co.uk
safes.co.uk is a safe and mailbox specialist selling high quality products at competitive prices.
We are already one of the fastest growing Safe Companies U.K and supply many corporate and domestic customers throughout Europe.
We pride ourselves on Quality Service, Quality Products & Quality Prices, and our dedication to customer care is paramount and our number one objective.
We offer one of the largest selections of safes online today. As members of the Master lock smiths association we only work with the best suppliers and manufactures of safes and we deliver these to your door at the most competitive price.
Our aim is to offer a high quality range of safes that meet the current demands of the public and insurance industry. As safe specialists we are able to offer a full range of services including delivery and installation.
We understand that choosing the right safe can be complicated, time consuming and difficult so please don't hesitate to contact us via telephone 0121 361 3607 or e-mail and we will be happy to advise you.
West Bromwich, West Midlands
---
NATIONWIDE SECURITY SERVICES UK
NationWide Security Services is dedicated to providing the highest level of security and investigation services. We employ security guards and private investigators who are committed to law enforcement. We are committed to providing exceptional service for each and every customer by working collaboratively with our clients, staff and with public emergency service providers. NationWide Security Services also provides a number of security services as listed below. -SIA Licensed Door Supervisor - For specialist areas such as night clubs, theatres, restaurants, public events and private events, SIA licensed door staff offer professional employees who set a high standard. -Key holding - Managing access to a domestic or commercial premises through safe guarding a copy of your properties keys & responding in the event of fire or alarm activation. -Manned Guards - Commercial and domestic security guards who will maintain an on-site security service. -Security Guards & Officers - Our fully qualified security guard services provide a professional service who will provide a completely secure service any time of the day. -Debt Recovery - Credit managment services and advice, asset recovery registered with the court of law. -Private Investigators - Undercover, fully trained investigators and 24 hour ex-forces surveillance team available. -24hr Dog Unit - Trained dog handler with a hi standard trained dog for protection of property, events or personnel For more information on our Security Guard Services, please call 0121 224 7666 WWW.NATIONWIDESECURITYSERVICES.CO.UK
Birmingham, West Midlands
---
CTB ALARMS LIMITED
CTB Alarms Limited specalise in installing repairing and servicing burglar alarms
Birmingham, West Midlands
---
Armour Security Guarding Limited
Armour Security Guarding provides reliable business security systems and security guard services. With our head office in Wolverhampton, West Midlands we deliver quality security services across the whole of the UK through our regional depots. With practical front-line experience and SIA training of all our security guards, We have quickly become a well-established security company helping clients protect their people, products and businesses. We provide static security guards, mobile patrol services, guard dogs, CCTV monitoring, key holding, retail security and close protection security services. Whether you require one security guard for one day or twenty guards for a fixed term, we can help.
Wolverhampton, West Midlands
---
redeyesecurity
Services we offer * Static Security Guards * Construction / Building Site Security * Gate House Security * Mobile Security Patrols * Key Holding Services * Factories * Offices * Shops * Homes
Ventnor, West Midlands
---
Leon Security Services Ltd
Experienced SIA (Security Industry Authority) Approved Contractor operating 24/7 throughout the West Midlands
Birmingham, West Midlands
---
LHL>> SECURITY LTD
We Are A Limited Company In The West Midlands Area Who''s Job Is To Supply Fully Licenced S.I.A Trained Staff To Companies In The Area For Example Pubs, Clubs, Building Sites, Retail Outlets And Outdoor Events Such As Licenced Music Events. If You Would Like To Take The Oppertunatey Of A Free Quote For As Many Events As You Require Please Call One Of Our Directors On The Numbers Below. Craige Ware / Steven Terry 07704047123 / 07858856292 Regards Craige Ware
Wolverhampton, West Midlands
---
T.A.P Security Solutions Ltd
T.A.P Security Solutions Ltd we offer a complete range of security services delivered by a team of professional and fully licensed and vetted security officers. We combine a friendly and professional service that is cost effective to your budget to ensure your company receives tailor made security that meets all your requirements. We believe our contemporary bespoke practices along with our years of experience will result in your satisfaction and our success! T.A.P Security solutions ultimately provide peace of mind to our clients so they can focus on their corporate objectives, rather than worrying about their security needs. We believe customer service and satisfaction is key to a successful business and ensure that all our clients are managed equally, effectively and pro-actively. Your safety is our priority! T.A.P Security Solutions Ltd is a professional security company based in Dudley and run by professionals with over 30 years experience in the industry. We pride ourselves on our professionalism and attention to detail and strongly believe that nothing gets past us! MISSION STATEMENT – T.A.P Security Solutions Ltd aims to be recognised as a leading security provider, by responding to the changing needs of the entire security community through partnership and co-operation with the Security Industry Authority, local authorities and key stakeholders. OUR OBJECTIVE – To ensure that we remain focused on satisfying your organisation''s security needs. We are constantly exploring the impact that new legislation, working practices and changes to society may have on the sectors we represent, by effectively communicating key issues and developing new products and services. T.A.P offers a range of security solutions, with all staff having a proven track record in each sector we represent; our workforce has received expert training above the current requirements of the Security Industry Authority (SIA) as part of their continued professional development. Some of the specialist services T.A.P Security Solutions offer include: Manned Uniformed Guards Static & Retail Guard Services Door Supervision Event Stewarding and Crowd Control services incl a dedicated response team Close Protection Residential Security Teams Security Consultancy services Security and Risk Management Residential Care Home Security Hospital Security Witness Protection services Facilities and Utilities Management This list is not exhaustive of the services T.A.P offer if what you require is not listed please contact us and we will be happy to advise you. We operate all of these services locally and nationally. We are based in the West Midlands and always offer competetive rates for the target area; for example the cost of living is far higher in cities eg: London/Birmingham/Manchester etc and we aim to be affordable and competetive for your business.
Brierley Hill, West Midlands
---
Pride 4 Security Services Ltd
Mobile Patrols/Alarm Response Static & Retail Officers Long Or Short Term Contracts KeyHolding & 24hr Call Out SIA Licensed Staff & Dog Units Industrial/Commercial/Retail
Tipton, West Midlands
---
SECURE ZONE SECURITY SOLUTIONS
WE ARE BASED IN THE JEWELLERY QUARTER IN BIRMINGHAM OUR SERVICES COVER ALL MIDLANDS AREAS LONDON AND THE NORTHEN COUNTIES STATIC GUARDING RETAIL GUARDING DOOR SUPERVISION KEY HOLDING ALARM RESPONSE MOBILE PATROLS WE ALSO PROVIDE PROTECTION FOR SPECIAL EVENTS
Birmingham, West Midlands
---
Plus Security Manned Guarding
Welcome to
Plus Security - Manned Guarding Specialists
Plus Security specialises in manned and mobile security services in a diverse range of sectors, ranging from schools and hospitals to construction sites and retail premises. Plus Security's aim is to exceed our customer's expectations through an integrated approach to security. Plus Security Security is capable of addressing all our customers threats and potential vulnerabilities.
Starting from manned guarding and extending to retail security, cctv operation, event security, remote monitoring, key holding and response, close protection to specialist projects Plus Security Security provides security solutions across a broad range of customers on a truly nationwide basis.
Plus Security Security deliver services to suite your individual security requirements and budget. The following principles have underpinned our success and reputation since the company first opened its doors back in 2005.
No gimmicks, no promises we cannot keep, no waffle, no excuses. Just good old fashioned quality, loyalty and value for money
Static Guarding
As a leading provider of static guarding Hi Sky Security offer trained, experienced and fully licensed security officers to a wide range of sites from schools and collages to factories and warehouses.
Mobile Patrols
For instances where a customer does not feel the need to employ a static officer, but wishes to ensure a high level of security is maintained we offer mobile patrol services throughout many towns and cities in the UK.
Reception Security
The role of a reception officer is specific function where a blend of diplomacy, courtesy and physical protection come together. Plus Securitys staff are highly trained in these areas to provide a cost effect multifunctional security and reception service, (read more)
Retail Security
Retail security is a specialist discipline requiring officers who are capable of high profile guarding with the ability to undertake covert surveillance when necessary. Plus Security's dedicated retail security team offer a wide range of solutions each individually tailored to your exact requirements.
Site Security
Constructions throughout the UK act like magnates for criminals looking to steal, vandals looking to damage the property and children risking their lives playing. Plus Security offer a cost effective static guarding service specialising in construction sites throughout the UK (read more)
Key Holding & Alarm Response
Imagine at 3am on a cold winters morning and intruder alarm is going off at your premises, would you feel safe sending a member of staff out to investigate the alarm, and how would your member of staff feel coming face to face with an intruder in the middle of the night. Plus Security have a safer alternative. (read more)
Short Notice - Emergency Cover
Plus Security provide 24-hour emergency cover throughout the UK, If you need a security officer and need one fast, Plus Security can provide a rapid response, providing a fully trained and experienced security guard anywhere in the UK within just 2 hours. Plus Security emergency cover services are designed to help other security companies experiencing staff shortages, or clients in need of urgent protection
Free CCTV
Plus Security are committed to providing only the very highest levels of protection that's why we are offering all our customers a free CCTV system. When you choose Hi Sky Security to provide your manned guarding services we will install and maintain a full CCTV system completely free of charge.
Free Consultation
Are you worried about becoming a victim of crime? Is your business fully protected and do you know if there are any weak point in you security? Plus Security offer a free no-obligation, survey, consultation and quotation service. A member of our highly trained and experienced team will conduct a full security analysis of your site and recommend the best services to provide maximum levels of protection whilst remaining within your budget.
SIA Licensed
Plus Security are a professional and reliable nationwide provider of static and mobile guarding services. We have whole heartedly welcomed tougher regulations on the security industry and are committed to ensuring all our operations fully comply with the Private Security Act 2001, as such each and every member of the Plus Security team are fully licensed in with the Security Industry Authority, For more information on the licensing requirements of private security companies and how the SIA are working to clean up the industry please visit http://www.the-sia.org.uk
Area We cover Coventry Birmingahm Nottingham London Manchester Leeds
Coventry, West Midlands
---
Security Locksmith Services
Lock Problems? Chubb, Yale, Union, Upvc, Etc... Emergency call out. Phone: Tony Lane Prompt, Reliable, Trustworthy.
Stourbridge, West Midlands
---
Find
Security Services near me
- Find out more about
Amazon Small Business Accounts UK