Paw Prints Dog grooming pet sitting and walking. offering excellent service and prices. Grooming from £15. Can collect and return your dog in the local crewe cheshire area.
Is this your business listing?
You can now upgrade your listing to remove other adverts, improve your listing and include a link to your website.
dog grooming pet sitting walking Dog Groomers Cheshire Paw Prints Dog Grooming Cheshire
Paw Prints Dog Grooming are listed in;
Dog Groomers Directory
:
Dog Groomers in Crewe
:
Dog Groomers in Cheshire
:
Crewe Business Directory
:
Cheshire Business Directory
sitting pet dog Crewe Dog Groomers Cheshire walking grooming
More Dog Groomers in Cheshire Listings
Note: This is a free listing, other listings and adverts do not appear on Upgraded Listings
Nantwich Marina Dog Grooming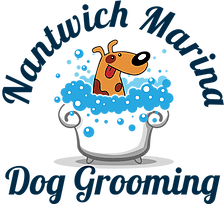 The home of a bath, a cut, and lots of affection.
Dog grooming service breed specific ad personal preference grooming an in between groom a simple 1 length clip to a simple nail trim or spa treatments.
Puppy college course 5 grooming appointments £95 and 10% discount for life on graduation.
Within my salon your dog will be treated as if my own. From a simple nail trim, to a full styling I shall ensure your dog is constantly monitored reassured happy and safe. ​
With safe convenient parking, the canal to walk on (I prefer happy tired and muddy dogs) with the cafe on the water, you can ensure a trip to the groomers is a relaxing time for all.
Dog Grooming Services
:
Dog Grooming Gallery
:
Dog Grooming FAQ's
Nantwich, Cheshire
---
Beartownsk9cuts
Beartown's K9 Cuts is run by Helen, and is based in Congleton Cheshire. Helen holds a qualification in dog grooming, having been inspired by her own little schnauzers, Max and Benji. ​A resident of Congleton for 14 years, she offers a professional and friendly service that can be tailor made to meet the requirements of both dog and owner. Your dog will be treated like one of the family, whilst being pampered in her well equipped-grooming room. Prices start from £5 for a nail clip, or from £25 for a full groom. Flexible appointments are available. Our Services We offer a wide range of dog grooming services, if you don't see what you're looking for below, just give us a call to discuss your needs. Nail cutting - to keep nails at a desired length and prevent them growing back into the pad. Bath, dry & brush/deshedding - ideal for in between appointments for those dogs who just need a freshen up or for those not needing clipping or scissoring. Just a brush or just a bath & dry Full groom - a full groom includes the following treatments: Prep work-brush out & check for any potential problems. Nail cutting and trimming of fur from bottom of pads and in between nails. Ear cleaning to remove wax and plucking if necessary. Bathing - all dogs are bathed using a high quality shampoo and conditioner. Shampoos will be selected according to the dog's coat and any skin sensitivities. If your vet has prescribed a medicated shampoo please feel free to bring it along to be used. Drying - carefully dried taking the type of coat into consideration. CAGE DRIERS ARE NOT USED. Styling using clippers &/or scissors to a style which suits your dog and your individual wishes. Puppies Puppies need to be introduced to the grooming environment as soon as possible. The puppy groom is suitable for puppies from three months old before their coat reaches maturity and requires more of an adult groom. The groom is dependent on how nervous your puppy is, but can include a bath, brush and dry with nail trimming and ear cleaning along with a facial trim. It may be that you prefer to split the groom treatment by bringing your puppy in on two consecutive days. There will be no extra charge for this. Charges Prices vary according to the size of the dog, condition of the dog's coat and how long the work takes. Please enquire for an estimated price. On seeing and feeling your dog I will be able to give you a more accurate price for the required service. Matted dogs It takes longer than usual to groom a matted dog. For the dog's welfare it may be necessary to clip the dog short rather than trying to get through all the matts. It is against the law to subject dogs to unnecessary pain and suffering that brushing out a matted coat causes. Working on a heavily matted dog will unfortunately incur an extra charge. Pick up and drop off can be arranged within a 5 mile radius. We have a loyalty scheme in operation at Beartown's K9 Cuts, pay for 5 full grooms and get 20% off your 6th visit.
Congleton, Cheshire
---
Little and Large Dog Grooming
Full Dog Grooming Service in Macclesfield, for Little and Large Dogs. I am an Experienced Dog Groomer, City and Guilds Qualified and Academy Trained. Offering Convenient, Professional, Quality and Breed Specific Trims.
Macclesfield, Cheshire
---
The Paw Pad
The Paw Pad is a doggy daycare centre, dog grooming salon and dog grooming school all under one roof. With years of experience the Paw Pad team will make sure that your furry friend is looked after well and has a great time.
Northwich, Cheshire
---
Precious Paws.
We offer Petservices: Dog Grooming, Dog Walking and Pet sitting in the Crewe and Nantwich area Collection and drop of service is available We're fully insured & certified with many years of animal care experiance
Crewe, Cheshire
---
doggydoos
Welcome to 'doggydoos' dog grooming in Cheshire. We simply adore dogs at 'doggydoos' and strive to make grooming a safe and enjoyable experience for all of our visitors. In a tranquil setting in Goostrey, with lovely views out of the window, our purpose built salon is ideal for ensuring your dog is relaxed, happy and safe. Qualified, fully insured and a keen member of the British Dog Groomer's Association we offer affordable services depending on the breed or tailored to your liking. These include full/mini grooms, de-shedding, hand stripping, ear care, paw/nail trims and more recently "creative grooming"! We also offer the facility for owners to bath, brush and dry their own dogs using our specialist shampoos (or their own prescribed shampoo) and equipment. All breeds are catered for including cross breeds and the loveable Heinz 57 variety – take a peek at our Gallery! We are open Monday to Friday plus evenings and weekends as requested, just call or email for more information or to book an appointment. We look forward to hearing from you.
Crewe, Cheshire
---
Pugs & Kisses Professional Dog Grooming Salon
Pugs & Kisses Dog Grooming Salon is a new and exciting groomers in Hawarden. Professionally trained and fully insured. We only groom a small amount of dogs per day so your dog will get the one on one attention they deserve. We offer a full range of grooming services as well as a pick up/drop off service. Please contact Catherine on 07885651395 for a price list or any further information. We look forward to hearing from you.
Chester, Cheshire
---
Millie''s Makeovers
Professional Mobile Dog Groomer Fully insured All breeds catered for in the comfort of your own home.
Warrington, Cheshire
---
Well Groomed Dogs
Well Groomed Dogs operates a mobile grooming service in the Warrington and St Helens area of Cheshire. Our mobile grooming salon has been fully adapted with a Hydro bath. Our dog grooming vehicle has had a full deluxe K9 conversion to present a professional dog salon with all the kit you would expect to find in your local poodle parlour. Well Groomed Dogs bring its dog salon to your home. Our mobile dog groomer offers a range of services from basic dog bathing, grooming, to the more specialised scissoring and hand stripping. Well Groomed Dogs also caters for small treatments such as dog nail clipping and brushing. Well Groomed Dogs offer the kind and relaxed atmosphere without the distraction of other dogs, which will help put your pet at ease and be less stressful for them.
Warrington, Cheshire
---
Cheshire Pet Dog Grooming
Cheshire Pet is a professional dog grooming service run by Sue Cornforth in Moulton, Cheshire As a small business we can guarantee to give you that personal touch and take the time to listen to you and fully understand yours and your dogs individual needs. We know that your dog is very special and, as such, we always treat them with the respect they deserve. Bring your dog to Cheshire Pet for a quality groom with an experienced and friendly groomer.  We strive to make your dog happy and relaxed during their time with us and always treat your dog with the same kindness and affection we treat our own! If your dog is nervous or grooming shy, just let us know and we will allow extra time to accommodate them. We offer a full scope of grooming services, including: Wash and Blow Dry De-matting & Undercoat Removal Nails Clipped & Filed Ears Plucked & Cleaned Trimmed to Breed Standard or Preference We pride ourselves on providing a caring, safe environment for your dog and always show them the same respect we would show our own.
Northwich, Cheshire
---
Poynton Paws Limited
We are a professional dog grooming salon based in Poynton, Cheshire and offer a high quality dog grooming experience for dogs in Poynton and the surrounding areas. As a home-based salon, with up-to-date equipment, we strive to provide a service of the highest quality with 100% customer satisfaction. We are fully insured for additional peace of mind and use only hypo-allergenic and eco-friendly products.
Stockport, Cheshire
---
FOUR PAWS GROOM SCHOOL
Your one stop shop for a career in dog grooming! Here at Four Paws we believe that everyone looking to go into a career in dog grooming should be fully equipped with all the skills they need to succeed. We run a range of expert dog groomer training courses to help set you up with all the tools required to make you top dog! DIPLOMA IN DOG GROOMING This course is an extended version of our popular dog grooming qualification, giving students that extra bit of time to maximise their confidence. Over a 15 day period our trainers teach you hands on, practical dog grooming and behaviour techniques. You will be provided with the tools to tackle any dog that comes through your door. Throughout the course you will get the opportunity to work with a different breed each day and work your way up to the more difficult dogs such as poodles. The extended dog grooming course covers areas such as handling, bathing, nail clipping, breed-specific clips, scissoring, ear plucking, breed recognition, product suitability, health & safety and expert business advice. We can recommend local places to stay whilst on your course which will suit most budgets. Parking is readily available at the training salon but we are fortunate to be close to good rail links and can collect you from the train station by arrangement. We are happy to talk to you about which course suits your level of skill and needs, just give us a call on 07891 938742. If we can''t get to the phone please leave us a message. We give our students 100% of our attention and calls will be returned ASAP in the next break. We are based at Watermill Farm, Norley Road, Cuddington, Northwich, Cheshire, CW8 2ED.
Northwich, Cheshire
---
jayde dog grooming
here at jayde dog grooming we offer over 25 years experience in dog grooming and dog handling, small and large dogs catered for , large walk in shower, free nail trim with every shower, prices start from as little as £8 for shower and blow dry, and from £15 for a full clip, we are proudly recommended by vets, pop in for an appointment and see are regulars being trimmed, or tel 0151 356 3560 , evening 07817546424 .
Ellesmere Port, Cheshire
---
Pretty Paws
Professional Dog Grooming Service, FREE LOCAL PICK UP AND DROP OFF.
Nantwich, Cheshire
---
Dog Buddies care services
Based in Macclesfield, Buddies has many years experience with dog care, with the focus on providing dog walking, dog grooming and our very popular home visits for all types of pets. Also available on request is a pets to vets service. The business offers a fully licensed, fully insured, professional and friendly dog care service to local people, which is intended to help with the everyday care of their dogs or pets. With an experienced dog handler and good facilities for boarding and grooming, the business also has a friendly and personnel approach to all of the clients, ensuring that all dogs are kept comfortable, reassured and happy at all times.
Macclesfield, Cheshire
---
Pro Pet Services
At Pro Pet Services we provide professional service and care for your pet, we treat your animals as if they were our own. We provide a wide range of services including; •Dog/Cat Grooming •Pet Sitting Services •Pet Taxi •Walking Services If you''re like most pet owners, you have a busy work schedule Monday to Friday, and sometimes during the weekend! Wouldn''t it be great if you knew your furry family member was being taken care of while you were at work or on holiday? Contact us today to arrange a free consultation to find out how we can provide for the needs for you and your pet.
Congleton, Cheshire
---
Canine Beauties Grooming Salon
A caring professional service for you and your pet. Canine Beauties offers a full grooming service or just a bath and hand dry if required. All breeds can be cut to breed standard or any way the client prefers. A full consultation will be offered prior to grooming. We are fully insured and a member of the Pet Care Trust. For more information please visit www.caninebeauties.co.uk
Stockport, Cheshire
---
Doggie Styling Services
Doggie Styling Services are not just about the grooming, we offer a range of services including dog grooming, pet creche, drop in service and dog walking.
Congleton, Cheshire
---
Paw Prints Dog Grooming
Paw Prints Dog grooming pet sitting and walking. offering excellent service and prices. Grooming from £15. Can collect and return your dog in the local crewe cheshire area.
Crewe, Cheshire
---
The Paw Pad Dog Groomer Training
Grooming dogs for a living is a rewarding, fun and lucrative career but where to start? On this 10 day hands-on course you will be taught everything you need to know from an established grooming professional. Including grooming techniques, clipping, trimming dog handling, skin analysis, nail trimming and advice for starting up your own successful business from advertising to securing repeat business, by the time you leave us, you will have all the knowledge you need! With friendly one on one training, you can take your time working with the most common breeds you will encounter and gain sound understanding of grooming styles for any dog who enters your salon with confidence and expertise. The Paw Pad also offers a post-course support service whenever you may need it. 10 day practical course costs £1,200pp with a 10% discount per referral. We also teach a 2 day hand stripping course at a cost of £200pp. Please feel free to call for a chat about your requirements. We''d love to hear from you! Located in Mid-Cheshire. Accommodation can be arranged. Students with dogs are welcome to bring them along. Dog grooming by dog lovers. Tel: 01606 872994 or 07814 930 534 Email: thepawpadnorthwich@yahoo.co.uk
Northwich, Cheshire
---
Ultimutt DogZone
Dog & Cat Grooming, Dog Training
Cheadle Heath, Cheshire
---
Pride and Groom
Full dog grooming service offered, free collection and delivery within two miles of Altrincham. All breeds catered for. I also offer a microchipping service.
Altrincham, Cheshire
---
Shampoodles
SHAMPOODLES dog and cat grooming 15 years experience all dogs groomed to crufts standards or individual requirements.Hand stripping available.
Sealand Nr Chester, Cheshire
---
The Grooming Table
Dog grooming service. Full grooming includes matt removal, shampoo, condition, drying, clipping/trimming, scissor finish, nail cutting and ear cleaning. All local areas covered including Offerton, Hazel Grove, High Lane, Disley, Marple, Marple Bridge, Compstall, Strines, Bredbury and Romiley. Collection and delivery service available.
Stockport, Cheshire
---
Dial a Dog Wash Stockport
Dial a Dog Wash is a mobile dog grooming service that comes to your home or work place in a modern specially equipped van! We offer all your dog''s grooming needs including: Hydrobathing, shampoo and condition, flea treatment, turbo drying, clipping, nail trimming and you can also buy your pet accessories from our on-board shop. This service is convenient as there is no trip to the grooming parlour, no mess in your bathroom and and is particularly beneficial to dogs that are nervous of visiting a grooming parlour. Remember, we come to you!
Stockport, Cheshire
---
the pampered pooch
dog grooming. all breeds catered for, summer and winter clip. no job too big...oe small!
congleton, Cheshire
---