UK Small Business Directory
The news, articles & blog section of Small Business Directory
.
Improve Your Local Citations
A number of people involved with Local Search believe that improving local citations can help establish trust and authority for small local service providers and small local businesses.
It is thought that people are more inclined to trust a small business if they know where the local business is located and how they can be contacted.
Some people also believe that Search Engines like to see businesses with accurate and consistent NAP information (Name Address Phone) and that this can help establish authority.
Improving Your Local Citations With Citations Booster
With this in mind TJS Marketing have created a way to help local businesses Improve Local Citations by accurately displaying your business name, business address and contact details in a clear way that is easily indexed by Google and other search engines.
Citations Booster provides free business advertising to UK based small business looking to improve their own Online presence or boost their local citations.
Add Your Free Business Listing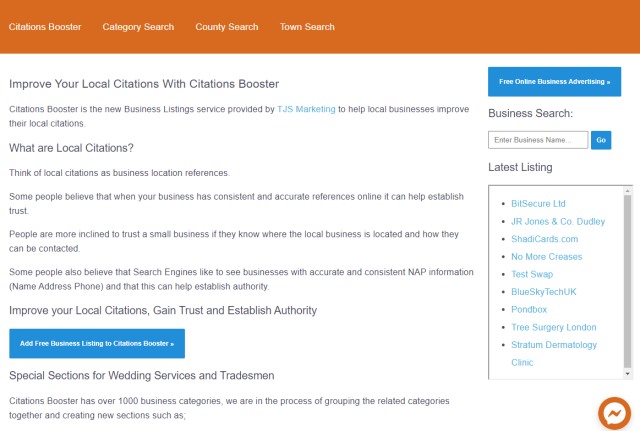 Latest Posts and Information
As an Amazon Associate we earn from qualifying purchases.
© UKSBD - 6 Granby Road, Honington, Shipston-on-Stour, Warwickshire, CV36 5AB - 01608 663759
We improve our products and advertising by using Microsoft Clarity to see how you use our website. By using our site, you agree that we and Microsoft can collect and use this data. Our privacy statement has more details.